Annual Conference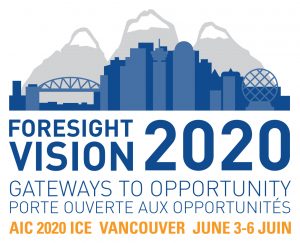 The 2020 AIC Conference will take place June 3 to 6, 2020 at the Sheraton Vancouver Wall Centre. The 2020 AIC Conference is Canada's premier event for real estate valuation professionals to gather for education seminars, dynamic speakers, knowledge sharing, networking with peers and learning about products and services. No other event brings together the most influential players in the real estate valuation and consulting profession!
Click here for more information on hotel reservations.
Discover the Conference's engaging educational program!
A plenary session with Canadian valuation experts who will share their insights on national market forecasts and trends;
Various sessions that will appeal to residential appraisers, including sessions about running a residential fee business, reports on the National Housing Strategy and workshops on the new residential forms;
Sessions catering to delegates interested in commercial appraisal, including on-reserve market value, advanced land methodology and land lease; and
Sessions on subjects such as effective time management, expert testimony and tips on how to reduce the risk of claims.   
Networking Opportunities
The 2020 AIC Conference is organizing three exciting networking events:
Welcome Reception. Kick-off the Conference on Wednesday, June 3 by picking up your registration package and reconnecting with colleagues over drinks and appetizers. 
Networking Night. This year's Networking Night is on Thursday, June 4 and will take place at The Stanley Park Pavillion, in the heart of Vancouver's crown jewel.
President's Gala Dinner & Dance. The President's Gala Dinner will be a formal affair on Friday, June 5 that will celebrate the new AIC National President and will acknowledge some noteworthy appraisers in our industry. This evening will include a dinner and dance with live music.
In addition to the exciting education program and networking events, there are plenty of activities that only Vancouver can offer:
Practice Your Swing (June 3, 2020) – The Conference will feature a golf tournament on Wednesday, June 3rd. 
Join the Post-Conference Activities (June 6, 2020) – This year, the 2020 AIC Conference planning committee has organized a post-conference activity that allows you to experience Vancouver at its finest. 
Explore – Vancouver is one of the world's great cities; with a wealth of things to see and do – check out the Tourism Vancouver website and find loads of information to plan your stay.
Bring your Companion; it is well worth the trip – The Companion program fee also includes all meals from June 3 – 6, 2020 and access to all networking events. Don't miss out!
More details to come soon!