Rebecca McClure on CRA Diversification
Canadian Property Valuation Magazine
Search the Library Online
---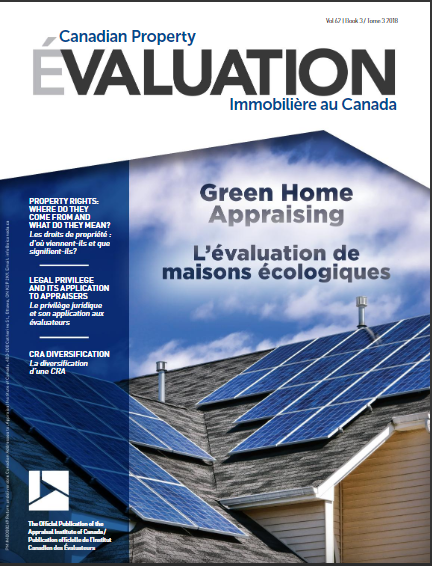 2018 – Volume 62 – Book 3
Rebecca McClure on CRA Diversification
---
Rebecca McClure on CRA Diversification
Can you give us a brief background on your education and career path to this point in time?
RM: I joined the Appraisal Institute of Canada (AIC) in 2004. My aunt, Linda Sherrett, who has been a Member of the AIC since the early 1980s (currently retired), offered me an opportunity to work for her and I took it. I was with Sherrett Appraisals Inc. (SAI) from 2004 until 2014, achieving my CRA designation in 2009.
In July of 2014, I left SAI to become a Valuation Officer of Retail Properties in the public sector with the City of Winnipeg Assessment and Taxation Department. This was an absolutely invaluable opportunity for me, as I worked with a different property type and a different valuation method than what I had been familiar with for the previous decade. I realized I was best suited for the fee industry and transitioned back to fee, part time, at the beginning of 2018 and full time as the new President of SAI in May 2018.
Can you tell us about Sherrett Appraisals?
RM: SAI was established by Linda Sherrett in 1993. Mortgage work was the 'bread and butter' of the firm for over 20 years. Linda owned and operated the company solely, save a bookkeeper and accounting assistance, until 2004, when she offered to mentor and employ me. For 10 years, we worked together and it seemed that, in that decade, our industry changed significantly. SAI has always offered services for the following property types: residential single-family (detached/attached), multi-family dwellings (duplex/tri-plex/four-plex), condominiums, vacant land (urban and rural), etc. SAI is a small firm providing desktop, drive-by, full appraisal reports, consulting and review assignments.
You have been a CRA since 2009. Over the years, you have diversified your services to where you now handle assignments that go considerably beyond residential appraisals for mortgage financing. What are some of the other appraisal services you personally provide?
RM: Presently, I provide appraisal reports for legal purposes, i.e., divorce, litigation, estate, etc. I also complete foreclosure assignments, relocation appraisals and reports for GST new home rebate disputes, to name a few. I do still accept mortgage appraisals; however, usually only from select clients.
Was this type of diversification a set plan of yours or did it come about through circumstance?
RM: As the mortgage appraisal business was changing, SAI began accepting new and different clients. Where we would have previously turned down a legal divorce appraisal due to time constraints, we started accepting them and made this type of work a priority. I think having two appraisers (Linda and myself) helped. We needed and wanted more work, so we willingly accepted different assignments. I think this was a pivotal moment, where we both realized there was ample work beyond mortgage appraisals. I continued to do the bulk of mortgage work and Linda would spend time on assignments that required a broader scope, so she could then provide expertise to me to expand my horizons. SAI started accepting more foreclosure, estate, relocation and divorce assignments. I suppose it was a set plan to diversify; however, really being able to choose preferred assignments did not truly begin until 2014.
Are there additional appraisal-related services you can provide down the road?
RM: Definitely. Before working for the public sector, I would never accept anything to do with assessment appeals in the fee industry, as I was unfamiliar with the process. The Board of Revision was something that was foreign to me and, quite honestly, somewhat daunting. After my tenure with the City of Winnipeg and being on the other side of the table, so to speak, I now want to expand my scope of work to residential assessment appeal assistance and representation.
Is diversifying beyond residential appraisals for mortgage financing a difficult undertaking for a CRA?
RM: The transition may be difficult, as the contents of a full appraisal for divorce purposes (for example) differs from that of a mortgage appraisal. The scope of work is greater and the time required to complete a legal type of report far exceeds that of a standard mortgage financing assignment. However, for me, I would say it was more necessary than difficult. The process and time to complete a divorce, foreclosure or relocation appraisal is different. You are given or you request the time required to complete an in-depth assignment to ensure your success and compliance to the Canadian Uniform Standards of Professional Appraisal Practice (CUSPAP). Your client's requirements are typically different and more involved as well. I would say that now doing mortgage work is actually more difficult for me. Completing assignments other than mortgage related reports has changed the reports I write. I find it challenging to not include more items or go over and above what is requested in a financing assignment now that I see how imperative some of these additional items or research are in legal assignments.
I think a fair number of CRAs would agree when I say that it is difficult to transition away from the 'numbers,' i.e., the number of reports you complete in a week/month/year. At SAI, we would often look at the number of assignments done in a month to judge how our business was performing (40 assignments per appraiser meant we were doing well). Those were largely mortgage appraisals 10 years ago. Now, I could be doing 20 assignments in a month; however, the work is different, so these 'numbers' do not have the meaning that they once did. Not taking as many assignments may be challenging at first and being able to take the time required to complete a report, instead of having a 12- to 24-hour deadline is also different. For me, this results in an improved quality of work product.
Did the education and training you received as part of the CRA designation process prepare you well for the various services and property types that you now handle?
RM: The education I received from Red River College in Winnipeg and from UBC Sauder School of Business was invaluable; however, I have found that working in the field with multiple mentors, different appraisers who agreed to have me shadow them, was where I learned the most. Learning from other active Members who have been involved in the industry for a long period of time exposes you to an absolute wealth of knowledge. Having experience and interactions with both fee and non-fee Members made me realize the value of networking and building relationships with other Members. I think the curriculum sets the tone and the base for your career in valuation, but there is a TON of learning along the way. I certainly realize what an incredible asset a quality CPD program is for our profession. Learning never ends.
Are there instances where you have to call upon support or assistance from AACIs?
RM: I have developed and continue to develop an excellent network of AIC Members. I often refer work beyond my scope to my AACI affiliates. While I have not recently completed an assignment in conjunction with an AACI, I have in the past and expect to do so in the future.
Which services or property types do you find the most interesting, challenging or enjoyable for you personally?
RM: I enjoy appraising rural residential properties, as well as properties in the Interlake region of Manitoba. I am a lake dweller in the summer, so I enjoy time spent on recreational or year-round properties in those areas. I like these types of properties for the same reason that I love this profession, it is never boring. Every day and every property is different and challenging in its own unique ways.
I also enjoy doing retrospective reports (for any purpose, but usually for marital disputes). I like the research and the 'going back in time' factor. You also have the advantage of already knowing where the market will go from that effective date, so you can test your research and your theory in arriving at your retrospective final estimate of value.
You are based in St. Adolphe, Manitoba, but list your areas served as all of rural Manitoba as well as nearby Winnipeg. How does your workload break down between rural assignments and those in a large city?
RM: I receive numerous requests to appraise properties outside of Winnipeg, which makes my workload around 60:40 rural:urban. As of late, most of the relocation and foreclosure requests I have received have rural locations, while most of my legal assignments are located in Winnipeg.
Do you prefer one more than the other?
RM: Not really. I like rurally located properties because they are typically unique and challenging, and the compensation is often better. I prefer to do legal work in Winnipeg because the information and data required for the assignment is greater and traditionally easily accessible.
Are there advantages to being rural based?
RM: I personally enjoy servicing rurally located properties and seem to have received an influx of rural requests; however, SAI being rural based is relatively new. The original office was located in central Winnipeg until 2017. Although it is now technically a rural based company, I am only located 15 kms or 10 minutes south of Winnipeg.
Is there much competition to provide these types of services in your geographical region?
RM: There is always competition. Fortunately, I have a great network of AIC Members to speak to, to refer work to and to receive referrals from. Many of my AIC colleagues refer legal work to me while they complete mortgage assignments as the bulk of their work. I think it depends on the appraisal company. A lot of appraisers in Manitoba have been in the industry for a long time and mortgage work is what they have always done. For me, perhaps being younger and still new in comparison to the average 25+ year careers, I have found that work beyond mortgage financing assignments is best for me and for SAI. While there is definitely competition, I have developed and continue to develop a reliable client base. I believe there is enough alternative work to go around, you just have to want it and go after it.
I did not decide on my own that legal or other forms of work was what I wanted to do for the majority of my workload. And I certainly did not blaze that trail. Deana Halladay, who is the current President of the MB AIC Chapter and also a good colleague and mentor, has been doing alternative work for quite some time and ultimately put the bug in my ear that assignments other than mortgage financing may be a good avenue to look at. If Deana is my competition, I am in extremely good company.
The AIC has implemented some new residential appraisal forms. Are these working well?
RM: YES! I cannot say enough good things about these forms. The forms provide some continuity for our members and their reports. While the new forms are predominantly designed for lenders and mortgage financing, they are absolutely imperative for all other types of appraisal work. These forms provide AIC Members a solid base or starting point and, in conjunction with referencing CUSPAP (and the new member resource section of the upgraded website), we are left with far fewer questions when completing assignments and after reports are submitted. In the 14 years I have been a member of the AIC, I believe the resources at our disposal have improved substantially.
What motivates you to succeed?
RM: I have been unbelievably fortunate in my career thus far. I was offered an opportunity and without that offer, I do not know where I would be. This company was built by my family. My aunt is the greatest mentor I have ever had and a woman with the most tireless work ethic that I have ever seen. I want this company to continue to succeed and thrive for my family. I want to succeed for the people who took a chance on me, for the people who came before me, and for the ones who may join me in the future. There is a saying that "if you love what you do, you will never work a day in your life." That is certainly the case for me. I am motivated to succeed so that I can one day provide someone else with an opportunity. I know that what we do may not be saving lives, but I also know first hand that this career can change your life.
What advice do you have for CRAs thinking of diversifying their practices?
RM: Do it and do not be shy to ask for assistance along the way. I cannot count the number of times I have picked up the phone to ask a colleague if I had included everything that is required or requested in a specific assignment or to triple check CUSPAP compliance. Diversifying your appraisal portfolio will enhance your work product infinitely for all assignments. It will put you in different, challenging and extremely rewarding situations and instead of worrying in January/February that you are going out of business, perhaps you will be a bit more comfortable. I have found that relocations and foreclosures are the assignments I receive the most in the winter months. Picking up the phone or doing some PR goes a long way. Once you begin, and lawyers, relocation companies, etc. become familiar with your work product, referrals and word of mouth business will happen. A little goes a long way… you just have to start.