14 social media best practices you should follow in 2019
Canadian Property Valuation Magazine
Search the Library Online
---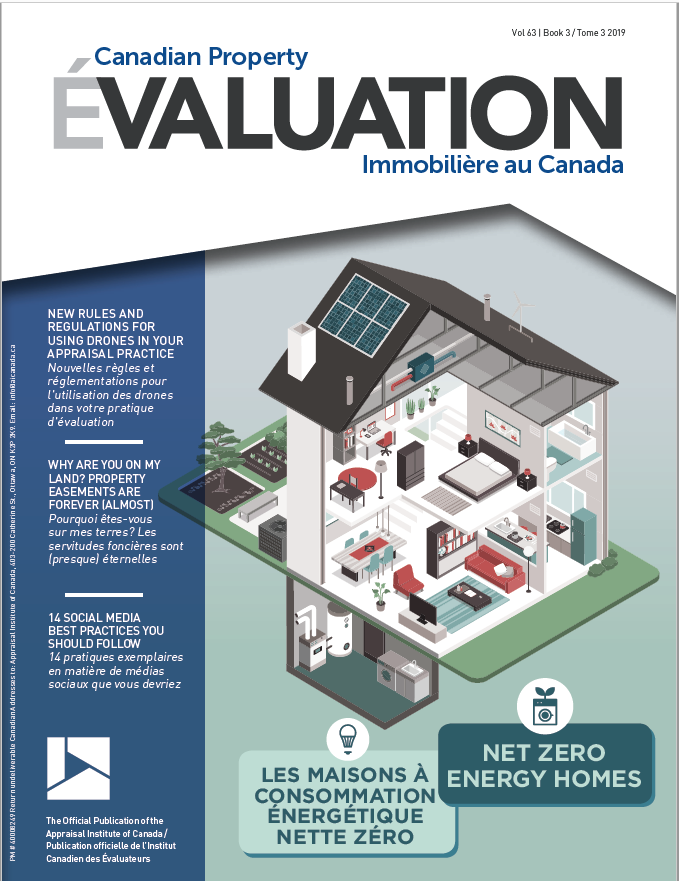 2019 – Volume 63 – Book 3
14 social media best practices you should follow in 2019
---
14 social media best practices you should follow in 2019
Whether you are contemplating establishing your social media presence, or you are a seasoned social media maven, if you are not familiar with Hootsuite, you owe it to yourself to get familiar with it. Hootsuite is one of many tools referred to as a 'Social Media Management System' or tool. It helps you keep track and manage your many social network channels. It can enable you to monitor what people are saying about your brand and help you respond instantly. You can view streams from multiple networks such as Facebook, Twitter and Google+ and post updates or reply directly. With so many networks for businesses to manage, it is no wonder that Social Media Management tools have become so popular and relied upon by many companies today.
If you manage the updates for your business' social networks, it is highly likely that you will have heard of Hootsuite. In a survey from monitoring tool Pingdom, Hootsuite came up as the top Social Media Management System, with over 20% of companies using it to manage their social media empires. TweetDeck was second and SocialEngage third. Hootsuite was launched in 2008 by Invoke Media and since then has accrued an impressive array of features.
In addition to being a powerful Social Media Management System, Hootsuite is also a rich source of information, tools, and best practices for maximizing the impact of the social media activity. The following entry from the Hootsuite blog is a great example of the type of information available on the Hootsuite site.
The following article, by Todd Clarke, originally appeared on the Hootsuite Blog on June 26, 2019. It is reprinted here, with permission.
So much to do on social media, so little time. And so many ways to do it, too. Some right, some not-so-right.
But don't worry, we've got you covered with the following must-follow social media best practices.
Bonus: Get the step-by-step social media strategy guide (https://blog.hootsuite.com/social-media-best-practices/#) with pro tips on how to grow your social media presence.
14 social media best practices for 2019
1. Learn everything you can about your audience
The first social media best practice? If you don't know who your audience is, you can't give them what they want. And then they won't give you what you want (their business).
Who are you trying to connect with?
Millennials, single moms, kids with canines? That's a start, but get as specific as you can to best engage them. Do the research and rely more on data, less on your gut. Get clear about your current customers, too. So you can go find and make new ones with the same traits. Such as:
Their age
Where they live
What languages they speak
How much they earn
How much they spend
What they buy
What they do in their spare time
What stage of life they're in (student, parent, retiree)
Other tactics to consider for learning about your audience include:
Analyze website and social media analytics
Be clear about the value for your products and services
Create a target market statement
Test your social ads on your target market
Lather, rinse, repeat – to learn new ways and means over time
Want to dive deeper into this topic? We have a guide to conducting audience research (https://blog.hootsuite.com/target-market/) that includes a template to help you build customer/audience personas.
2. Choose which networks to use (and which to ignore)
Because too many marketers spread themselves too thin across too many networks. How do you determine which networks to show up and share on?
Research the demographics (https://blog.hootsuite.com/social-media-demographics/). This will help you determine which networks to use—and which to lose. These are the kinds of insights you should be looking for:
Instagram demographics
A billion users, 500 million of them active every day
71% of Americans between 18 and 24 use this network
43% African Americans, 38% Hispanic, 32% white for U.S users
Facebook Demographics
More active monthly users than any one country's population
1.4 billion daily users, and 2.13 billion monthly ones
25-34 year olds are the biggest segment for U.S. users
75% of U.S. adults rake in $75,000+
Twitter demographics
Big. Political. Platform. More so than the others.
330 million active monthly users
45% of new users have college degrees
I think you get the idea. Know more about your audience and who uses what social network and combine those two data points to better sell your brand.
3. Have a plan
Have you created a social media strategy, (https://blog.hootsuite.com/how-to-create-a-social-media-marketing-plan/) summarizing what you want to do and achieve on social media?
Yes? Good job. No? You should. Why? To know whether you're succeeding or failing for every post, share, like and comment.
This guide will walk you through each step of crafting a winning plan. (https://blog.hootsuite.com/how-to-create-a-social-media-marketing-plan/) But here are the highlights: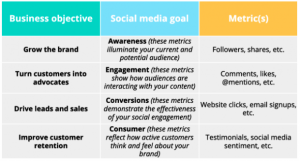 Set goals
Otherwise, how do you know what's working, what's not, and what to change as you create and share content? And, track useful metrics. Here's a few.
Social media KPIs (https://blog.hootsuite.com/social-media-kpis-key-performance-indicators/) are also worth tracking.
Conduct an audit
Gather and examine what's working and what's not on social media in one place. This will help you plan what to do more of, what to improve, and what to stop. Easily see:
Who you're connecting with
Who's connecting with you
Which networks your target audience uses
How your brand compares with your competitors
And… ask yourself a few (honest) questions about your social accounts:
Is your audience here?
If so, how are they using this platform?
Does this help you achieve your business goals?
Use your answers to decide which accounts are worth keeping, or ditching.
Need help setting up your audit? We've got a template for you. (https://blog.hootsuite.com/social-media-audit-template/)
4. Keep an eye on the competition
Because if you don't, they'll get the upper hand. Also, to learn from what they're doing, to help you decide what you should (and shouldn't) be doing. Why reinvent when you can circumvent?
For your social media competitors you want to know…
Who they are
Where they are
What they're doing
What they did before
How well they're doing what they're doing
Any threats to your business
Identify gaps in your own strategy
Do some intel to ask and answer…
What networks are they on?
How big is their audience?
How often do they post?
How much do they engage (shares, likes, and comments)?
What are they good at?
And not so good at?
What threats do they pose?
There are tools and techniques to help with this (and a template to organize your findings) (https://blog.hootsuite.com/competitive-analysis-on-social-media/).
Competitors can give great inspiration for your social media activities.
Heck, I've contacted and befriended many copywriters. We share war stories about losses and victories, along with tools, approaches, and ideas for doing and being better. You could (should), too.
5. Listen for mentions of your brand
Know what people are saying on your social media channels. If you do, you can track, analyze, and respond to those conversations. If you don't, you're missing out on valuable insights for your business.
Social listening (https://blog.hootsuite.com/social-listening-business/) is a two-step process.
Monitor channels to capture mentions of your brand, competitors, product, and relevant keywords.
2. Analyze those mentions to identify what you should do next.
Like… Respond to a happy customer (or to a troll) (https://blog.hootsuite.com/how-to-deal-with-trolls-on-social-media/) . Test one campaign against another. Or significantly shift your brand voice and tone.
Learn how people think about you, compared to the competition. Is a competitor taking a beating in the press? Could that be a golden moment to share, show, or say?
Beat the competition to discover and resolve pain points. Is someone talking about their feature that sucks? Can you quickly add a new feature that doesn't?
Identify influencers and advocates. Is someone out there saying something superb about you all? Maybe it's time to collaborate with them.
Listen, learn, and earn.
Here are some tools to help you listen on social (https://blog.hootsuite.com/social-listening-business/).
6. Monitor conversations that are relevant to your industry
Like social listening, social monitoring is about knowing what people think of your brand.
There are tools to help you know: who's mentioning your brand, using which hashtags, and other trends in your industry.
Think of social monitoring as the foundation for social listening. Monitor to learn from the past. Listen to create your future.
Does this picture help?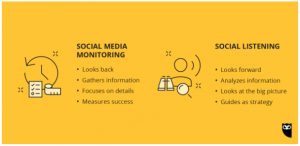 About those tools? Here are some of the best social monitoring tools we found or used (https://blog.hootsuite.com/social-media-monitoring-tools/)
7. Establish your social media voice and tone
I'm going to blatantly plagiarize the start of this piece (https://blog.hootsuite.com/how-to-build-an-authentic-voice-on-social/) – word for word. It's okay, I wrote it.
Every time you talk, write, design, post, respond, launch, thank, and connect with others… you're exercising your brand voice. Every time.
Whether you think about it or not. People are building up an impression in their minds for all the ways you appear – online, on stage, on the phone, or in person. Don't you think it's best to be deliberate about all that? To convey the voice and vibe for your ongoing message? So that your fans, followers, readers, listeners, leads, prospects, and customers 'get it'?
Here are some ways.
Find your adjectives to develop the voice and vibe for your brand's personality. I supplied a list for you to start (and end) with.
Write like you talk by avoiding jargon. Jargon requires brain calories for readers to translate. But they won't, they'll just click elsewhere.
Write from the reader's perspective, to make them, not you, the hero in the story. Be clear so readers will know what they will get from what you do.
Drop the drama. Avoid sensational headlines. Always be clear over clever. This forces you to understand the reader and write more to them.
There are more tips and examples in the full post (https://blog.hootsuite.com/how-to-build-an-authentic-voice-on-social/) .
8. Follow the social media 'Rule of Thirds'
Why? First, let's talk about what to share.
⅓ share posts to promote your business, convert readers, and generate profits
⅓ share posts of ideas from influencers in your industry (or like-minded businesses)
⅓ share posts of personal stories to build your brand
Now, back to the why (for the ⅔ sharing). Sharing out content shows your followers…
You know your industry
You're collaborative
Where you're positioned within the industry
Simple, right?
9. Respond to all comments and @mentions—promptly
Because when you don't, it makes you look lazy, unwilling, and all about you. So get off your podium and into the dinner party – by welcoming, listening, and encouraging conversation. Like a good host. When you're on a podium, you orate – one-way communication.
Bonus: Get the step-by-step social media strategy guide with pro tips on how to grow your social media presence.
Get the free guide right now! (https://blog.hootsuite.com/social-media-best-practices/)
But at a dinner party, you converse – two-way communication.
Social media + comments + mentions + respond now (not later) = a relationship.
Here's an entire guide to social media engagement (https://blog.hootsuite.com/social-media-engagement/) to form healthier relationships for your social media accounts.
10. Don't repost the same message across networks
I get it, posting the same (exact) message across your social channels seems efficient. Why reinvent (or rewrite) a piece multiple times versus one time? But, like tip number nine above, reposting is another way to look lazy and sloppy. Instead, craft a new message for every network and post.
Yes, it takes more time and work. But maybe not as much as you think. No need to start from scratch – but do make some tweaks. It will pay off because people will see you as a brand that cares what it shares. And it shows that you're paying attention.
Optimize content for each network. Tailor some things for your channel. Use the right vocabulary for your captions. It's easy to imagine words that work on Snapchat may not have a chance on LinkedIn. And use the right (vs same) hashtags for each platform. If not, you'll look spammy.
Don't over post. Post regularly? Absolutely. Over-posting may be hard to do on Twitter, but easy to do for Facebook and LinkedIn. Different audiences have different tastes. Know them all to appeal to them all.
Ignore some channels. Just do. Because sharing a cool new product might rock on Pinterest, but flop on LinkedIn.
11. Use data to determine when and how often to post
When is the right time to post? It depends on the social network. People might be on LinkedIn during regular workday hours, but Instagram is more of a leisure time platform.
We have an entire article dedicated to finding the best times to post on social media (https://blog.hootsuite.com/best-time-to-post-on-facebook-twitter-instagram/). It's back by data from the best brands on social.
Now, how often should you post? That's hard to say, in general. But, create social media reports (https://blog.hootsuite.com/social-media-reporting-for-social-media-managers/) to track results for who's engaging with your brand and posts. So you can make your choices based on data, not hunches.
12. A/B test your messaging
A/B testing (a.k.a. split testing) allows you to test small variations of your messaging to learn what works best for your audience.
How?
They key – change one thing at a time. Otherwise, you're back to guessing if you change multiple aspects of the message.
What to test, you might be thinking?
Post text. Consider some of these for your A/B testing:
A quote vs a key statistic
The length of the post
Use an emoji
Ordered versus unordered bullets
Variations on punctuation
Tone of voice, say casual versus formal, passive versus active
Call-to-action. CTAs are critical, you're asking readers to take an action. Change it up to see what works best. For example, 'Use App' versus 'Install Now.' Easy to do, easy to see results.
Use of image or video. Research shows images and videos perform best. Fine, but which of those work best? Try it and see, to go from theory to proof for your posts. For instance, test:
Text only versus posts with an image or video
Regular image versus animated GIF
Photos of people or products versus graphs or infographics
Length of video
There's more to A/B test. Much more. See our complete guide (https://blog.hootsuite.com/social-media-ab-testing/) .
13. Use the right tools
There's loads of tools and apps to do social media right (https://blog.hootsuite.com/best-social-media-apps-list/#unmetric) .
Of course, there's the major networks like Facebook, Twitter, YouTube, and Instagram. You need to start there – at least with the ones that are right for your brand and target audience. Then you can look to apps to take your posts and content to the next level. Here's a few:
Check out the rest of the tools (https://blog.hootsuite.com/best-social-media-apps-list) to create, share, track and adjust your social media campaigns.
14. Measure results and adjust your strategy as needed
For your social media… Have you identified your goals (https://blog.hootsuite.com/smart-social-media-goals/)? Then defined the right metrics (https://blog.hootsuite.com/social-media-metrics/)? Same for your KPIs (https://blog.hootsuite.com/social-media-kpis-key-performance-indicators/)?
Yes? Nice one.
Then your next step is to determine if you're earning more than you're spending on social media. By gathering data from your accounts and campaigns to track and improve performance—analytics.
We wrote the complete guide to using social media analytics tools (https://blog.hootsuite.com/social-media-analytics/).
I'll give you the highlights below.
Facebook has an analytics dashboard. Use it to view likes, followers, reach and engagement for your pages and posts. Notice the changes before and after a campaign.
Want to boost some ads, but not sure which ones? Use the Promotions section to figure that out. There's more, but you get the idea.
Twitter also has a dashboard to look at information, month-to-month. Like, top tweets, followers, and mentions. See too, engagements, impressions and promotions for your tweets for a given time period.
Twitter also shows demographics for your audience. Use this to compare your audience and how they differ.
Instagram offers analytics for business profiles. More than just content, gain insights about who your followers are, when they're online, and more.
For your account understand:
Impressions: the number of times your posts were on screen
Reach: the number of unique post views
Website Clicks: The number of clicks on the link included in your profile
Profile Visits: The number of times your username is clicked on
You'll find similar dashboards for LinkedIn, Pinterest, and Snapchat.
Use these tools to see what's working and what's not, so you can see and adjust to get more of the former.
There you go. Some tools, rules, and clues for making your best practices common practices.
Do social media better, faster, and smarter with Hootsuite. From a single dashboard, you can schedule and publish posts, monitor relevant conversations, engage the audience, run ads, measure results, and much more. Try it free today.