Advocacy
Canadian Property Valuation Magazine
Search the Library Online
---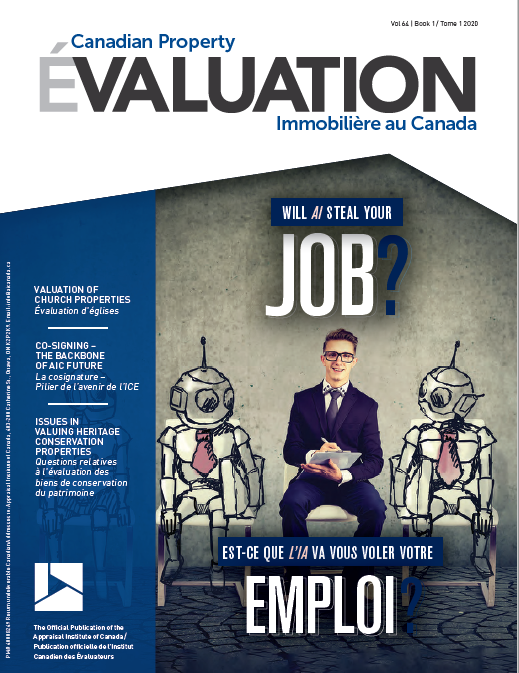 2020 – Volume 64 – Book 1
Advocacy
---
ADVOCACY
Since the last issue of Canadian Property Valuation (CPV), the Appraisal Institute of Canada (AIC) advocacy representatives from across the country have been active in promoting the AIC and the important role its Members play in the real estate industry.
In this edition of Advocacy in Action, our spotlight is on AIC's Third Annual Parliament Hill Day, which occurred during the Advocacy Committee's meetings in Ottawa in late February 2020.
AIC Members at Parliament Hill
Parliament Hill Days are very popular in Ottawa and they are starting to gather steam in provincial capitals. Hill Days, as insiders call them, are where an organization's team, including its leadership, visits Parliament Hill to meet as many Members of Parliament (MPs) as possible in order to advocate on certain issues on which they would like the federal government to take action.
In February 2020, AIC organized and delivered its third annual Hill Day, which brought members of the Advocacy Committee to Ottawa to meet over 20 MPs. The main objectives were to introduce AIC and the important role appraisers play in both the real estate industry and the Canadian economy.
It proved, once again, to be an excellent opportunity to get in front of federal legislators to ensure appraisers are included in discussions related to real estate, as well as to create relationships that could be beneficial for AIC Members and the protection of the public.
As well as introducing AIC and the role appraisers have in real estate transactions, we also approached legislators with the following three issues and recommendations:
Updating Flood Maps Across Canada to better inform and protect the public and the real estate market as a whole.
Exempting Mortgage Renewals from the Application of the Stress Test under B20 (Residential Mortgage Underwriting Practices and Procedures, under the auspice of the Office of the Superintendent of Financial Institutions).
Combatting Money Laundering Through a Beneficial Ownership Registry.
The main objectives for all three issues are the protection of the public and the interest of consumers. These issues also require expert knowledge and expertise from AIC Members.
This 2020 edition of Hill Day was another success. In fact, in the margins of all these meetings, the Parliamentary Secretary to the Minister of Finance, Sean Fraser, met with the entire Advocacy Committee for a roundtable discussion.
To view pictures from the meetings that included AIC Members and MPs, please visit our Twitter page @AIC_Canada
Testifying on the Hill
Following is the testimony made by the Appraisal Institute of Canada's (AIC's) President, Thomas Fox, AACI, P. App, and AIC's CEO, Keith Lancastle to the House of Commons Standing Committee on Finance. The hearings were on the 2020 Pre-Budget Consultations, and AIC presented its submission and answered questions from committee members. AIC was the only appraisal association involved in the hearings to represent the voice of the profession as well as the interests of the lending system and Canadians.
This presentation was made February 6, 2020 on Parliament Hill – a recorded version of this presentation is available at https://parlvu.parl.gc.ca/Harmony/en/PowerBrowser/PowerBrowserV2/20200206/-1/32575?Language=English&Stream=Video.
This is the third time in the last three years that the AIC has appeared before the committee – the first one being in February 2017, relating to the committee's study on Canada's Housing Market.
Mister Chairman, Honourable Members,
We are honoured to be here and appreciate the opportunity to present our members' concerns and recommendations to the Standing Committee on Finance in the context of the 2020 pre-budget consultation process.
The Appraisal Institute of Canada has over 5,500 members that complete over one million appraisals annually valuing over one trillion dollars' worth of real property. They provide unbiased opinions of value on residential, commercial and all other types of property.
In addition to a university degree, our members complete a rigorous Program of Professional study leading to one of two internationally recognized designations. The scope and the conduct of our members' services are defined by our Canadian Uniform Standards of Professional Appraisal Practice.
As a self-regulatory body, we have a strong focus on consumer protection. We maintain a robust disciplinary process and provide a mandatory professional liability insurance program to help protect consumers and our members' clients
Our 2020 pre-budget submission is focused on three areas:
First, that the Office of the Superintendent of Financial Institutions exempt residential mortgage renewals from the application of the stress test under B20 Guidelines.
Second, that the Government of Canada work with provinces and territories to create a publicly accessible registry of beneficial ownership to help combat money laundering in real estate.
And third, that the Government of Canada makes an immediate investment to improve the quality and availability of flood mapping across the country.
We understand that each of our recommendations have been noted in mandate letters to the Minister of Finance, the Minister of Innovation, Science and Industry and the Minister of Natural Resources. We would like to convey the importance of proceeding with these initiatives and we are prepared to help support government in doing that work.
As we all know, as of January 1, 2018 the "stress test" has been applied to uninsured residential mortgage loans through federally regulated financial institutions. This applies to mortgage loans whether they are new originations, renewals or refinances.
While we know that many in organized real estate have called for broad based changes in the stress test; our focus has been on the application of the stress test to renewals. Applying the stress test on borrowers who may want to switch lenders at renewal could prevent consumers from obtaining the most competitive interest rate and terms that might be available in the marketplace.
Whether it is at the end of the mortgage's first term or several terms down the road, mortgage holders seeking to renew their mortgage are responsible borrowers who have a proven track record, and are not seeking to increase the amount of their mortgage debt.
We would also note transferring one mortgage from one Federally Regulated Financial Institution to another does not add any additional financial stress to the system as a whole.
Therefore, we recommend that mortgage renewals be exempt from the application of the stress test so that Canadians can obtain the most competitive rate and terms possible.
Our second recommendation focuses on allegations of criminal behaviour and money laundering through real estate in Canada. One measure that has been discussed, and in fact recently announced in British Columbia, is the need for a publicly accessible registry of beneficial ownership.
In May 2019, the CD Howe Institute released a report regarding Canada's ability to combat money laundering. The report called for a publicly accessible registry of beneficial ownership and states that "Canada's anti-money-laundering protections (particularly as they pertain to real estate) are among the weakest of those of the western liberal democracies… ." Based on 2018 GDP, the amount of money laundered annually in Canada is estimated at $130 billion.
The report further outlines that money launderers are able to do what they do because of their ability to be "invisible and anonymous." A publicly accessible registry of beneficial ownership would address that concern.
We believe that beneficial ownership registries would help support the balance in market forces of supply and demand and ensure that legitimate homebuyers are allowed to compete in a fairer and more balanced market.
Regardless of how the registry is structured, it is important that all stakeholders within the real estate industry have full and equitable access to these and other public records.
Our third and final recommendation relates to the increased number of floods that have occurred over the last several years in communities across Canada, most notably due to abnormally high-water levels during the spring thaw. Many thousands of residences and buildings across the country have struggled in preparing for and managing these extreme flood events.
Reports suggest that climate change is one of the factors that are contributing to recurring flooding. In fact, the Insurance Bureau of Canada estimates that over one million homes across Canada are at high risk of flooding, and a portion of those are at very high risk of flooding.
Homes and buildings that are situated in flood zones are often less valuable than those that are outside of those zones. As the climate change proceeds, floods will occur more frequently and in areas that were not affected in the past.
Prospective homeowners, developers and the mortgage lending industry rely, in part, on information gathered by appraisers to make their buying and lending decisions. Updated flood maps made available to the real estate industry would assist appraisers in providing more accurate information to those relying on their reports.
Mr. Chairman, Honourable members – we are privileged to have been invited here today to share the perspectives of our members. We appreciate the chance to share our recommendations and would be happy to respond to any questions or comments you and your colleagues may have.
Thank you. Merci!
Moving forward, the AIC Advocacy Committee will continue to develop strategies and build on the momentum that has been created over the course of the last several years, as we continue to make a name for ourselves with government and other real estate industry organizations.
As always, if any members have additional issues that require the committee's attention, please contact your provincial representative or Andre Hannoush, Director, Public Affairs, at
.