Appraisers operating during the worldwide pandemic
Canadian Property Valuation Magazine
Search the Library Online
---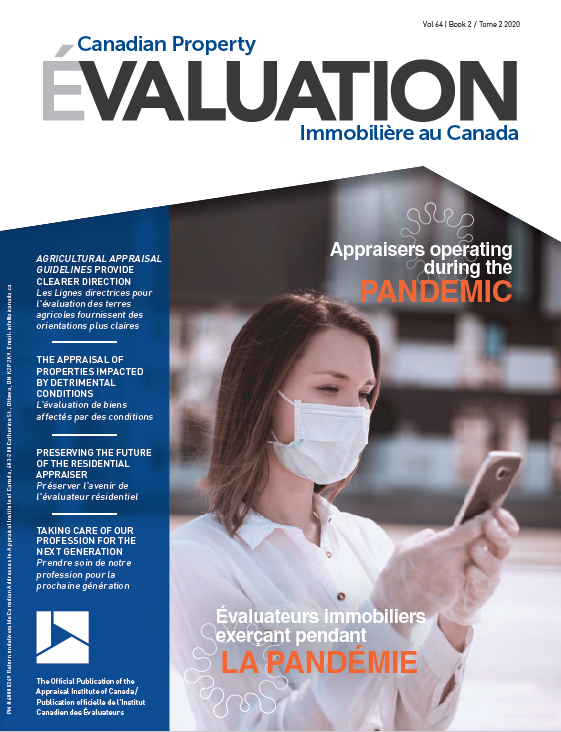 2020 – Volume 64 – Book 2
Appraisers operating during the worldwide pandemic
---
Appraisers operating during the worldwide pandemic
COVID-19: the very sound of the term leaves people the world over filled with fear and anxiety as to what the ultimate consequences of the virus will be with respect to human life, economic hardship and general social behavior modification.
For real estate appraisers across Canada, whether employed by a larger organization or operating their own appraisal practice, the past two months have seen their companies close, their clients and their real estate projects put on hold, and their homes become their places of work.
While there is no clear picture as to when the world will return to normal, what that new normal might look like, and when business will resume to at least a semblance of pre-pandemic times, appraisers coast-to-coast are finding ways to continue functioning, conducting their business, and practicing their profession in unique, creative and determined ways.
In this feature, we share the stories of seven Appraisal Institute of Canada (AIC) Members who are continuing to adapt and operate successfully during these unprecedented times.
CLAUDIO POLITO, AACI, P.App is a Managing Partner of Cross-Town Appraisal Ltd., a mid-size firm operating in the Greater Toronto Area.
LEIGH WALKER, CRA, P.App is the President of Lawrenson Walker Appraisers Ltd., a residential appraisal firm in Greater Vancouver, Greater Victoria, Okanagan, Peace Region and Calgary.
DAN JONES, AACI, P.App is the President of Campbell & Pound Appraisals Ltd, servicing the Greater Vancouver Area and Fraser Valley. He is also the President and CEO of both the commercial-industrial firm Campbell & Pound Commercial and the residential appraisal firm Campbell & Pound Appraisals.
ADAM DICKINSON, CRA, P.App is the co-owner and Secretary-Treasurer of De Stecher Appraisals Ltd. in Saint John, NB.
MIKE GARCELON, AACI, P.App is the Vice President of Professional Services for Suncorp Valuations in Saskatoon, SK.
DEANA HALLADAY, CRA, P.App is the owner of Halladay Appraisal Services in Winnipeg, MB.
MIKE KIRKLAND, AACI, P.App is a fee appraiser and partner at Kirkland, Balsom and Associates located in St. John's, NL.
Q. How are you coping personally and professionally with the pandemic?
CLAUDIO: Like most Canadians, emotions vary day to day, but, as we settle into the daily routine of the 'new normal,' coping becomes easier. As a firm, we were quick to use every tool in the appraiser kit. We realized an interior inspection would be difficult and a work around was possible. The challenge became convincing our lenders.
LEIGH: My main coping mechanism is to serve as the calming influence for my family, my team of 30 staff and their families.
DAN: We have been doing as well as can be expected to this point in time. No one really knows what is about to come, but keeping abreast of news, technology and our industry is key. As in any crisis, you aim to get ahead of the curve and that is what we have been attempting to do. Figuring out the current and anticipated roadblocks, along with strong collaboration with stakeholders and clients has been a successful strategy thus far.
ADAM: As a business owner, I want to make sure that I am encouraging our team to be safe and to make good professional decisions. Work has slowed in some areas, and it has been stressful to make sure we are treating our people fairly and they are getting what they need. I have been communicating with our staff and my co-owners regularly and have been taking webinars about effective management, in an effort to keep focus on the best path forward.
MIKE G: The pandemic is a natural event and it is important to keep things in context. Other than scale, the pandemic has similar impact on society and the economy as do severe storms or forest fires, for example. Eventually it will pass. I focus on simply doing my job, keeping myself informed, and providing support to others when I can.
DEANA: My office is at home, so working from home is normal for me. Having my two adult children around most of the time is different, as they both had busy lives with work and school, so they were constantly coming and going. Having more family dinners is a bonus of the pandemic. I try to get outdoors every day. I enjoy cycling and the fresh air helps to break the monotony of being at home. I have been connecting more with some distant family members and former colleagues by phone and by Zoom.
MIKE K: Personally, it has been difficult, as I have a young family that struggles to understand why all this is happening. They really miss playing with their friends and daily activities. Professionally, it has also been a challenge given there is less activity in the local real estate market.

Q. When did you close your office and begin working from home?
CLAUDIO: We closed our office quite early, prior to the announcement by the Provincial Government. We have had our main servers on the 'Cloud' since 2009 and have had the capabilities for remote work since then. Like most offices, the annual flu would spread from person to person, so we have always encouraged staff to work remotely when not feeling well.
LEIGH: We closed our office immediately and took it 100% virtual. We use technology such as VDI virtual desktop technology, Zoom, Slack, Activtrak and Anow to continue functioning.
DAN: By March 20, our appraisers were all working from home remotely with tech and digital connection to the office. Team and client meetings are now virtual and held via Zoom. Following the lead of the World Health Organization and the Public Health Agency of Canada, the AIC began sending out Communiques in mid-March with recommendations that pushed for safety of both the public and the appraiser. We also follow the Covid-19 updates daily and keep ourselves informed of daily changes affecting our stakeholders and clients.
ADAM: Some of our staff had the foresight to start working from home in the second week of March. I then sent our admin staff to work from home on March 19. We do have some team members who still work in the office, though we limit those in the office to two at any given time. Everyone has the opportunity to work remotely, if they choose.
MIKE G: Suncorp initiated mandatory work from home for our offices in stages beginning in early March. By March 22, all of our offices were closed and our entire staff was working remotely.
MIKE K: While our office is physically closed to clients, most of our staff has been working from home since mid-March. We do have one appraiser who is working from the office.

Q. How are you maintaining regular contact with your staff?
CLAUDIO: We have an internal messaging system for chat, Team Viewer for real time review, and Zoom for virtual office meetings. We instituted the full-day virtual office where staff and appraisers can log into Zoom to ask me questions and say hello… just as though I was in my office.
LEIGH: Our admin staff has a continuous Zoom meeting from 9-5 each day, whereby each person can communicate verbally and visually with other staff, similar to the office environment. I do regular Zoom meetings with our appraisal team as well.
DAN: We log into Zoom daily so the team can discuss with stakeholders any issues they may be having that are unique to the virus. As CEO, I am available 24/7, depending on whether it is a staff enquiry or a client operational issue. Many times they are brainstorming with other staff members to find a solution to issues that may arise strictly relating to Covid-19, new underwriting rules, or Terms of Reference changes instituted by our stakeholders.
ADAM: Actually, we have been using old technology for keeping in touch – lots of telephone calls, emails and texts.
MIKE G: Suncorp invested considerable capital in recent years to upgrade all of our IT equipment, systems and procedures. The company has state of the art technology including internal communication tools, remote work applications, and extremely robust security. We were very pleased that our transition from business as usual to all offices closed and mandatory work from home was seamless, with no disruption to our clients.
MIKE K: We are in frequent contact with our team through Microsoft Teams, emails and phone. We also installed a VPN system since working from home, which allows all of our appraisers to access files on our server.

Q. Were you working on specific appraisal projects when this all happened?
CLAUDIO: We were working on various assignments and had to quickly adapt as required on a file-by-file basis. Our focus was to maintain the integrity of the full appraisal report without the aid of an interior inspection. While this may be new in the 'lending' industry, it is a common tool in situations where access is no longer available, such as retrospective analysis assignments or hypothetical assignments.
LEIGH: We had a number of projects on the go. In addition to moving our entire company virtual, we are using this time to revamp our office workflow procedures, moving from a transactional model towards a more client centric model.
DAN: In BC, appraisers and all real estate professionals were on track for a buoyant spring market where the demand from three years before had returned. Unfortunately, sales transactions decreased by 70% in the last two weeks of March from where they were in the first half of the month.
ADAM: I had a few point-in-time appraisals and other work on the go when our Province's state of emergency started, and I sent the team home.
MIKE G: We typically have 50-100 open files at any one time. In early March, we implemented a strategy that worked very well to prioritize and expedite all property inspections in anticipation of disruptions.
DEANA: I had a few litigation files on my desk, as well as some unique assignments that involved a great deal of research. Clients are getting additional value for the fee right now, as I have extra time to research data, process and analyze.
On the AIC volunteer side, I am part of the team that updated the 2020 Professional Practice Seminar, so I have spent time reviewing material for the in-class sessions. We are also updating the candidate Introduction To Professional Practice session, so I have spent time reviewing that as well. I was going to be presenting a session at the 2020 AIC Conference in Vancouver entitled 'Thinking Beyond First Mortgage Financing Appraisals.' With the conference cancelled, I will be working on the development of that session for UBC where it will be delivered as a second level of CPD 132 Form Fillers – More Than Just a Form.
MIKE K: I had several challenging assignments ongoing when this all happened. In addition, our consultancy and advisory work has continued.

Q. Have you been able to continue with any of these projects or are they on hold until we are back to some sort of normalcy?
CLAUDIO: For the most part, we continued with those assignments that were deemed reasonable to proceed. Some, however, have been placed on the shelf until we get back to a level of normalcy.
LEIGH: Thankfully, we have not had any interruptions to workflow. Our order volumes are down, however, my days seem to be as busy as ever with business development, Zoom meetings, webinars, etc. Our goal is to be in the best position possible when this lockdown is lifted.
DAN: As a firm carrying out multiple consulting services for clients, we can see that the commercial business, ICI and Reserve Fund Planning has fallen considerably. Residential is much slower, but more resilient than commercial in that many sales and purchases took place in February and the first two weeks of March. March overall showed reasonably acceptable numbers with the general marketplace being unaware of what was to come with Covid-19. Many appraisers are still seeing a continuation and completion of those early March deals, but the feeling is that, after those deals make their way through the system, appraisers may see their work reduced to levels never seen before.
ADAM: I have been communicating with clients explaining what the limitations of work will be during the current situation. A few have put projects on hold or cancelled appraisals due to client needs at this time. Others have understood that we cannot predict the future, and have continued with their appraisal engagements under the new circumstances. I expect some projects will start back up when the 'new normal' is established.
MIKE G: Many of our inspections were put on hold. In some cases, we were able to conduct exterior inspections, or virtual inspections, and complete the file. Interestingly, some of our clients had empty buildings during the pandemic, and, in those cases, we were able to expedite those inspections and complete the file ahead of schedule.
DEANA: Work has continued on for me, although as time passes, new work coming in has definitely slowed. The houses that I have inspected have either been vacant for some time or no one is currently residing there. AIC volunteer work has also kept me occupied and engaged in the profession. While it may not pay well, it is definitely rewarding.
MIKE K: Most of our consultancy and advisory work has continued as normal. I meet with clients on a regular basis through Zoom. However, some files have been put on hold as clients are concerned about how this pandemic will affect real estate values. In cases where they would like us to proceed under current market conditions, we inform them that our reports will include less certainty and a higher degree of caution applied to the valuation.

Q. How are your clients reacting to this type of arrangement?
CLAUDIO: Initially, our clients were unaware of all the tools available to the appraiser. Once explained, most lenders realized this was the 'new normal' for the time being. Safety of the appraiser and the occupant of the dwelling had to take precedent.
LEIGH: We developed Modified Full Appraisal procedures and worked to get them quickly adopted by the lending community. Our clients were thankful for the innovation and efforts to smooth out what could have been an uncertain appraisal process.
DAN: The clients and stakeholders have been very receptive to our ability to adapt to this pandemic and the challenges posed to carry on doing business. Most have bought into a hybrid appraisal service known as the Modified Full Appraisal, where the appraiser visits the property for exterior photos and inventory taking, but where only the exterior is visited. The appraiser has a verbal conversation with the homeowner or occupant beforehand to discuss all aspects of the property's interior, including updates, condition, inventory, etc. Using a new Walkthrough app (from our software provider) developed specifically for the pandemic and Modified Full Appraisal, the homeowner then takes interior photos of every room in the house and uploads photos to the appraiser (date and time stamped as current) for insertion into the report being prepared. The appraiser, while at the home, may also run a virtual walkthrough video with the homeowner/occupant via Facetime, Skype, WhatsApp, or other technology.
ADAM: For financing appraisals, I have made sure that borrowers and lenders understand the limited scope of inspections that are possible, and that language in the reports will explain that economic conditions and changes could lead to value fluctuations in the future. Once everyone has agreed to these conditions, we have been able to proceed smoothly. Some clients are better than others at providing good photographs and property details required for us to complete our work.
MIKE G: Our clients appreciated our dedication to safety, our focus on being informed of actual facts, and our efforts to either expedite the inspections or suggest alternatives.
DEANA: Most of my clients are private individuals, so it requires more explaining as to how the inspection process will be conducted. I ask that all lights are on throughout the home and that all doors are open so I can see the house as 'contact free' as possible. Questions are asked outside from the required distance and the usual conversation happens. It seems a bit awkward at times, but most clients understand the process.
MIKE K: Clients appear to understand the challenges we face in these uncertain times. Some have decided to wait for reports and for us to gauge market conditions later, while others require the work to be completed without delay.

Q. Have you taken any special measures to communicate with existing and potential clients to let them know you are still operational and how that will work for as long as these conditions exist?
CLAUDIO: Early on, our clients were contacted with the solutions we had available to them. We spoke to their risk and credit departments, ensuring that a full and reliable appraisal could be achieved with the new processes in place. In addition, I have been asked to participate in meetings with lenders and, on one occasion, was the guest speaker on a lender's conference call with 500+ market participants.
LEIGH: I have been in daily contact with all industry stakeholders including banks, alt lenders, private lenders, brokers, appraisal organizations and software providers.
DAN: Our firm advertises on a radio network which reaches all of BC and parts of Alberta. We have also sent multiple Communiques to our stakeholders informing them that appraisers are an essential service, that our company has remained open for business, and that we have taken the pandemic seriously. We let them know of the safety measures employed, company policy and our ultimate goal of protecting them and their clients' health. Press releases have also been distributed to inform clients of our technology and virtual meeting abilities. One new option is the collaboration with our tech partner Anow and their new interior inspection Walkthrough app that was developed quickly and efficiently to meet the needs of the public.
ADAM: We have made sure our recurring clients know we are 'open for business' and have responded to inquiries in a timely fashion. We have updated our social media to explain that our team is working remotely, but have not proactively marketed our availability in these times.
MIKE G: We communicate with all of our stakeholders on a regular basis. Being an essential service is an important responsibility that we take seriously. We have made every effort to serve our clients, while following all government restrictions and guidelines.
DEANA: I have updated my company website to reflect the latest information provided by the AIC, Health Canada and Provincial authorities.
MIKE K: We contacted our clients to make them aware that our business is operating remotely. We also sent our clients a special information bulletin about the impacts Covid-19 is having on the real estate market.

Q. Are there opportunities to pursue new business during this time?
CLAUDIO: We are a full-service firm involved with a variety of assignments. We have decided to maintain our current client list, but eagerly welcome any new assignments.
LEIGH: Charles Darwin said, "It is not the strongest of the species that survives, nor the most intelligent, it is the one that is most adaptable to change." I believe this is especially true for appraisers as a result of Covid-19.
DAN: Although thought to be a temporary measure, the Modified Full Appraisal may be continued in certain instances post-virus. For instance, it may be a preferred technique for keeping the fees reasonable for properties in remote areas where appraisers charge for driving long distances. Images obtained by the owner and a recorded Zoom interior tour between owner and appraiser (date and time stamped) may make these types of assignment more economical for lenders.
We anticipate work moving forward as debt-strapped Canadians visit their broker or bank virtually and apply for extended lines of credit where appraisals will be necessary to refinance existing mortgages. The apparent risk after we move deeper into the summer will also harvest more updated appraisals from lenders concerned about market risk. Bankruptcy, foreclosure and divorce will always provide sources of appraisal revenue during slowdowns in the market and the Covid-19 crisis will be no exception.
During this time, it is important to keep our hands on the wheel since the virus can change the complexion of the economy in days rather than months. I call my clients daily and forward policy and Terms of Reference changes to our team constantly to make sure everyone is on the same page.
ADAM: As local businesses adapt and change because of the shutdown, I believe there will be opportunities. I think some local businesses will have different space needs after this – some needing less, some needing more, and some needing different types of space if their business models have changed (e.g., a retailer successfully selling online might need less showroom and more warehousing). I think appraisers will be available to provide advice and valuations as these changes in demand are felt in the market.
MIKE G: With change comes opportunity, and we have identified new opportunities that we are pursuing.
DEANA: I am still accepting appraisal assignments, but there are conditions that need to be met and I explain that during the initial conversation or email. I forward a letter explaining what precautions I will be taking and asking that the inspection be completed while the home is unoccupied. I ask that all lights be on, doors be open, and access to all areas be as contact free as possible. Clients are welcome to ask questions of me or provide information before or after the inspection.
MIKE K: As a fee appraiser, I believe there are always opportunities to explore new business prospects. This includes reaching out to clients we have not heard from in awhile and promoting our advisory services to potential clients. With property values changing, our clients will require valuation experts to help them make the best real estate decisions. Our clients will want to check the property value for different purposes. We anticipate there will be increased refinance opportunities and, unfortunately, work coming from estate, divorce, bankruptcy and foreclosure proceedings.

Q. What are the biggest challenges you face in doing your job or operating your company during these unprecedented times?
CLAUDIO: As Managing Partner of Cross-Town Appraisal and Ontario President of the AIC, you can imagine how hectic those early days were. The challenge was how to maintain the health and safety of appraisers, while providing them with the tools to continue earning a living.
LEIGH: With so much discussion about appraising during Covid-19 among various stakeholders, making sure accurate messaging about appraisals gets out there has been the biggest challenge.
DAN: The biggest challenge is wondering where the market is going to go and for how long. Although we have past data from the first quarter of 2020, appraisers do not predict or forecast values. When sales and listing data is limited due to inactivity and the virus-related holding pattern, we can only hope that our conclusions make sense to the economy and that our work stands the test of underwriters, purchasers and the market.
ADAM: As an appraiser, the biggest challenge has been making sure I am providing useful analysis to clients in the current circumstances. I have been trying to make sure anyone looking for an appraisal knows what we can and cannot do.
MIKE G: In times of significant disruption, it is essential that management implement strategies that serve our clients and the public, are supportive to our staff, and are right for the business. I have found that the biggest challenge to finding that balance has been the massive volume of inaccurate or out of date information that exists from every media stream. During uncertain times, it is essential to find a reliable source of factual information upon which to make appropriate decisions.
DEANA: For me, one of the most enjoyable aspects of residential assignments is the conversation with the client/homeowner during the inspection. Completing inspections without the usual dialogue that takes place while walking through a home, takes away some of the opportunity to build a personal connection with the client. I find this especially challenging with divorce or estate work, as the rapport that you build and the conversations you have during the inspection is no longer there – or they are very brief. That client or homeowner may think you are uninterested in what they are saying or being 'standoffish.' It helps to let the client know that this is not the way you usually conduct site visits.
MIKE K: One of the obvious challenges is not completing interior inspections. We have adopted the AIC's recommendation that appraisers minimize or avoid onsite inspections and complete reports without onsite inspections. Another challenge is balancing work and family life while working from home.
Q. Have you been able to work around these challenges?
CLAUDIO: We quickly developed and published a Covid-19 policy on our website. It began with a market warning given the uncertainty of what was transpiring. It quickly evolved into a recommendation for the immediate halt to interior inspections. We then laid out the process we would take to ensure we had sufficient information on the interior of the subject property. This included the occupant providing real time pictures, the appraisers being able to view and take pictures through ground floor windows, using virtual tools such as Facetime and WhatsApp, and relying on third party information, including information contained internally on file at the office.
LEIGH: We have continued to function by relying heavily on social media, the telephone and email. Getting the right information to our clients as quickly as possible was one of our initial goals.
DAN: Utilization of technology is key to overcoming the coming recession. Analyzing data and the origin of the data is also important. Our company utilizes an Anow office management system with a powerful analytics feature which tells the manager who is doing what and when, as well as the instant status of assignments. Used in combination with client deadlines, it makes the management of a team more effective. We can operate the same volumes of business today with 66% less touches on a file than say five or six years ago. In the past, I would require human contact with the stakeholder/client as many as 10 times per file, whereas now, with technology, artificial intelligence, client auto notifications, and digitization, we might only touch that file three or four times. This saves time and money in redundancies, phone calls, and clerical staff interactions with the file and makes it more profitable.
ADAM: Communication has been key to work around the challenge of making sure clients are getting useful advice. I have been upfront with clients about what can and cannot be done. When someone is coming to us for a financing appraisal, I encourage them to confirm with their lender that an appraisal with a limited inspection is acceptable, and that they accept the fact we do not know what will happen in the future.
MIKE G: We chose to put minimal weight on media reports. Instead, we relied on facts from actual sources which, in just about all cases, would be the actual orders or documents posted to government websites. In some cases, we obtained opinions from legal counsel or other advisors.
DEANA: Ensuring that some type of conversation takes places – either immediately after the inspection while outside (two meters apart) or via phone/text before writing the report has helped. For example, when completing a retrospective report, if the property has changed substantially from the effective date, I would normally ask to see photos while at a home. Now I have the client send the pictures by email or text and can follow up with additional questions.
MIKE K: AIC has been proactive in its approach to this pandemic by working with lenders and the professional liability insurance program. The Institute quickly implemented Extraordinary Limiting Conditions and Assumptions such as "This report assignment was completed without physical access to the interior/exterior of this property. Property details have been identified and collected through other means as noted in this report." These have allowed our industry to continue to function. We have also adopted new techniques such as Facetime calls with property owners to assist gathering accurate information.
Q. Will the way you are operating during this pandemic change how you function personally or professionally when it is over?
CLAUDIO: Nothing substitutes for a full interior inspection by a qualified appraiser. That is my opinion and that is how we will proceed once the pandemic is over. However, the tools offered to us such as virtual tours, Zoom meetings, and the like will be part of our ongoing internal enhancements. With respect to health and wellbeing, I can see appraisers wearing masks and being more conscious of washing their hands before and after all inspections.
LEIGH: We developed Modified Full Appraisal procedures and worked diligently to get them quickly adopted by the lending community. Other appraisal business owners and I are part of an appraisal business group that partnered with a leading appraisal tech company to develop Walkthrough, which is a tool to engage homeowners to help appraisers do their job. These tools will continue to be part of how we function in the future.
DAN: We are following the edict from AIC National that says the actions here are temporary. One of the reasons that we advocate for a full appraisal is that: (1) the insurance coverage goes from $50,000 on a drive-by to $ 2,000,000 on a full appraisal; and (2) the lenders always want land values, remaining economic life, percentage of completion, and a single concluded value. None of these can be provided in a data sales sheet, desktop or drive-by service.
By completing the Modified Full Report, the appraiser leaves the door open for the lender to send the appraiser back to the property for updated photos and to undertake an update to the original appraisal, which would not be possible with the other services.
At the end of the day, I truly believe industry stakeholders will still place the greatest weight on a full appraisal with interior inspection carried out by an experienced, independent appraiser. Preventing fraud will always be a priority of these organizations, as will making sure the photos are taken and the interior viewed by the appraiser rather than someone with an inherent conflict of interest (e.g., homeowner).
ADAM: I enjoy going to properties. Once the public health concerns have subsided, I hope to be back out in the field, taking my own photos and making my own in-person observations about the properties I am appraising.
As for client service, we have updated our billing and payment systems to be more effective for remote work, using an online payment system. We will keep using the new payment platform going forward.
MIKE G: It is too soon to predict the future, but I believe that most businesses are working towards a return to normalcy, which is a wise strategy. However, when the pandemic is over, there will be an opportunity for everyone to look back and learn some lessons. At the very least, I would think all industries will embrace technology to a much larger extent, and much quicker, than ever before.
DEANA: Although I have been fortunate enough to not have to complete assignments without a full inspection during the pandemic, I think appraisers are realizing that it is not easier to operate this way. This has given AIC Members a different view of the importance of actually seeing properties first hand. We use all of our senses when inspecting houses. It is unlikely a homeowner applying for a mortgage will show you items that may have a detrimental impact on the value. Things like doors that do not close properly, stained carpets, a cat urine odor, a slope in the floor, or water seepage in the basement will likely not be pointed out or noted. If these items come to light in a foreclosure later on, lenders will become aware of the importance of on-site inspection by an appraiser. These items may have an impact on the value or alert an appraiser and/or lender to the need for further professional advice. In the coming months, it may be necessary to continue 'virtual inspections,' but I do not think appraisers will see this as an easy way out.
MIKE K: Operating from home could continue for many firms once this is over. This could have a serious impact on the demand for office space, which could influence property values. The special conditions that have been implemented by the AIC are intended to allow members to continue to work during the pandemic. I strongly believe, however, that the best way to value a property is through an interior, onsite inspection.
Q. What toll, if any, do you feel this will have financially on you and your business?
CLAUDIO: Like most firms, there has been a slowdown in business, but we anticipate an improvement once the pandemic is over. Low interest rates and pent up demand will hopefully spur on a return to better times.
LEIGH: A slower real estate market produces less order volume and revenue. We will definitely take a hit.
DAN: For us, it means valuing what your team members do and how they do it. It means making every effort to disburse and rotate the business evenly to as many staff as possible. During the last recession, rather than layoff staff, we trained many of our residential consultants into a new property class. Daily seminars were held teaching commercial and industrial valuation techniques. I would take groups of five into site inspections and then we would all work through the reports as a team. The fees charged to the clients would be spread evenly among the new students with a view of not making a profit for the company as a short-term measure of survival. It gave us a more diversified staff in the long run, with the ability to maintain staff levels until the recession ended. The investment of time and money into team members has lasting benefits. The longevity of a staff member and their contributions are by-product of the environment they are in and the trust that the firm has in each of them.
ADAM: We have had less work since this pandemic started. Because we had been busy in the months leading up to this, hopefully, we will handle the financial storm well. That being said, I do worry about keeping our team busy if the slowdown in our residential department continues for too long.
MIKE G: In the short- and medium-term, this is very disruptive to our staff as well as on the company's cash flows and resources. In the longer term, I expect an eventual return to normalcy. I also expect many companies will develop detailed disaster plans.
DEANA: Hard costs of running an appraisal practice – regardless of the size – are significant. Monthly or annual costs for access to MLS data, real estate board memberships, cellphones, insurance, software subscriptions, website hosting and IT contracts will all continue. We need to have those items in place for one job or 50 jobs per month. Most of the revenue I am generating at this point is going to cover those costs. Fortunately, I have been able to access savings and reserves to cover my personal expenses, since taking a paycheque from the company right now is not an option.
MIKE K: Our revenues and workload have declined since the pandemic started. I am confident, however, that once some normality is restored, there will be pent up demand for our services.
Q. Do you feel there will be any significant short- or long-term repercussions for your business specifically and for the appraisal profession as a whole?
CLAUDIO: This may be the moment appraisers realize their true value. At the onset, most market participants were running away from the Coronavirus, yet appraisers were being asked to run into the virus at the risk of their wellbeing. To me, this crystallized the value and importance of the appraiser.
LEIGH: Thankfully, I do not believe there will be any major repercussions for my business. We are using this period to rework our entire operation and I expect us to be in a strong position when we come out of this.
DAN: Automated Valuation Models and machine/computer home valuations do not give the lending community what they need for large loans in a fast moving market. Brokers and lenders need pertinent and specific data that is not dated. This is what appraisers provide and where the AVMs cannot compete. However, I do believe that the separation of human contact may precipitate the evolution of technology taking its space in the market. Where technology was utilized before the pandemic by various segments of society, I believe these segments and all demographics will totally embrace technology and artificial intelligence moving forward. There will be more alliances and consolidations of apps in the mortgage and valuation industries.
ADAM: In the short-term, I worry about keeping our staff and appraisers engaged. Longer term, I am concerned about how changes in the real estate market will impact property values and demand for our services in our office and across the profession.
MIKE G: I expect the opposite. Appraisers are an essential service and this is our opportunity to rise to the occasion as a profession and remind stakeholders of why we are essential.
DEANA: There will be many changes in the economy that will have an impact on our profession. There will be job losses, relationship breakdowns and mortgage defaults, and perhaps even more demand for higher risk loans. Appraisers who may have previously had AMCs or financial institutions as their primary clients need to ensure that they have the knowledge and experience in completing assignments with the intended use other than first mortgage financing. Substantially more detail and extensive analysis is required for appraisals with the intended use of second or third mortgage financing, private lenders, foreclosure or divorce/separation.
MIKE K: While business volumes may have declined in the short-term, we are hopeful that our client base will require our services once the pandemic is over. Nevertheless, this could have the potential for long-term repercussions for some businesses that have not adapted to new technology and areas of service offered.
Q. If you could share one piece of advice with other appraisers trying to cope with this situation, what would that advice be?
CLAUDIO: Appraisers are no different than other professions. Those who were able to pause and isolate because they were financially able to do so did. Those who had the clientele that respected and valued their opinion had an easier time than those who were threatened with the loss of income and perhaps their place on an approved list. Some appraisers had to make difficult decisions involving risk to their personal or financial health. That is a terrible position to be put in. Fortunately, through the support and leadership of AIC National, this was quickly addressed. Hopefully, this was an eye opener. Choose clients that respect you and the value you add to the process. Do not undervalue yourself or your profession.
LEIGH: The appraisal profession post-Covid-19 will be much different than pre-pandemic times. It will be important to keep pace with industry innovations and other changes that are coming.
DAN: Be patient and do not simply look in the rear view mirror. Looking ahead and into future integrations of your business is key to being relevant.
ADAM: It is important to be cautiously optimistic. If you have been working long hours leading up to this time, try to take the slowdown as an opportunity to reflect on how to improve your processes, so that when things get busier, you are ready to take on your work in a better way.
MIKE G: Tune out the noise and base your management decisions and strategies on facts from reputable sources.
DEANA: Make sure you take care of yourself – try to keep some type of a routine. Take a daily walk or cycle. If you are working from home, make sure you take a stretch break every hour. Reach out to a colleague or close friend – by phone or email. Keeping in contact with others will help to alleviate some of the anxiety of these stressful times. We will get through this together.
I have been impressed with the AIC and its timely guidance to appraisers through this pandemic. Checking the AIC website regularly and incorporating the recommended clauses into your reports will provide guidance to keep working and ensure you are incorporating best practices into your business and your reports. We will all need to adapt to a new normal.
MIKE K: While these are unprecedented times, I believe we will be able to continue to thrive as a profession. If you happen to have more free time, take the opportunity to diversify your scope of practice or market your business. Remember that better days are ahead. I encourage all appraisers to practice social distancing, stay physically active, work remotely (if possible), and leverage the tools that have been provided by AIC in order to continue being productive.