Kim Passmore: Combining ambition with a dynamic, open-minded approach to the appraisal profession
Canadian Property Valuation Magazine
Search the Library Online
---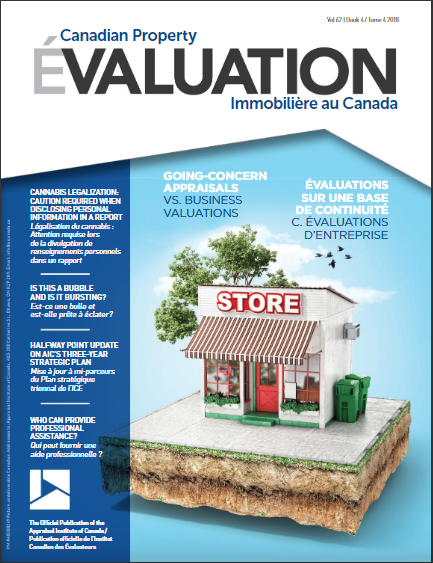 2018 – Volume 62 – Book 4
Kim Passmore: Combining ambition with a dynamic, open-minded approach to the appraisal profession
---
The Future is Bright
Kim Passmore, AACI, P.App: Combining ambition with a dynamic, open-minded approach to the appraisal profession
Kim Passmore, AACI, P.App is a partner with S.W. Irvine & Associates in Guelph, Ontario. She specializes in agricultural and residential property valuation, which includes mixed, dairy, horse and cash crop farms, as well as other types of intensified farming operations, recreational country properties and vacant land.
What motivated you to choose the appraisal profession?
I found out about the appraisal profession while working towards my Bachelor of Commerce degree in Real Estate and Housing at the University of Guelph. Jane Londerville, who launched the real estate appraisal program at the University of Guelph, introduced me to the University of British Columbia's Post Graduate Certificate in Real Property Valuation (PGCV). Real estate appraisal became a career possibility once I completed a few courses in that program.
Can you tell us more about your educational background and work experience?
I began the PGCV during my undergraduate degree and completed both programs at the same time. As a student, I spent a summer working for the BC Assessment Authority. In 2011, as soon as I graduated, I started working at S.W. Irvine & Associates. I completed my mentorship and demo and earned my Appraisal Institute of Canada (AIC) AACI, P.App designation in 2014.
How long did it take for you to you earn your designation?
Including my undergraduate degree, the process was close to eight years. Once I graduated, however, it took another three to four years for me to complete my designation. My path to earning the designation was definitely quicker than usual because I took a real estate-specific undergraduate degree, which eliminated the number of courses I needed to take to finish the PGCV.
What challenges did the designation process present for you from both a work and personal perspective?
At the same time as I was completing my designation, I was a competitive show jumper, which was very demanding on my time. Between training, travel and competitions, show jumping was almost another full-time job. Finding time to complete my coursework was difficult, since I already was a full-time Candidate at S.W. Irvine & Associates. The profession's flexibility and the support and mentorship I received from company owner Steve Irvine made it possible for me to work, complete my coursework and continue to show jump at a competitive level.
From your personal experience, how would you evaluate the designation process?
At the time, I thought the designation process was excessive. Now, however, I see that it equipped me with the knowledge and resources I needed to confidently represent the AIC as a designated appraiser.
The work experience requirement was the most influential. Of course, the educational component was important, but I had been in school for so long that I lacked full-time guided work experience. The work experience portion provided me with industry knowledge and ample firsthand experience in dealing with a variety of assignments and customers, all of which I needed to confidently continue as a fee appraiser upon designation.
Looking back on it now, I realize that I could have earned my designation sooner: I waited almost two years between my last course and my demo. But, over the course of those two years, I continued to compete in Ontario and in Florida during the winter season and I enjoyed that very much.
When did you become a partner with S.W. Irvine & Associates? How did that develop?
I became a partner in December 2015. Steve, the founder of the company, was retiring, at which point the opportunity became available for three of his long-term appraisers to purchase the business.
Who has or is still mentoring you and what has been their impact? How do you view your firm's mentorship role?
I benefitted from the support and guidance of two important mentors. Steve, my formal AIC mentor, gave me industry-specific experience and knowledge.
I also had a mentor who was a leader in a completely unrelated industry. This mentor owned and operated a manufacturing business in Canada and the United States and was a competitive athlete and mother of three. She was indispensable to me, as I went through the process of buying a business and forming a partnership with my two S.W. Irvine & Associates colleagues. She gave me business and career advice on a more macro level.
I am appreciative to have had both an appraisal mentor and a business mentor. I benefitted immensely from their experience and knowledge.
In terms of our own firm's mentorship role, we very much believe in the process, but know that we can always improve. Having cooperative partners helps share the mentorship duties of our numerous AIC Candidate Members.
What do you enjoy most about working in the real estate valuation profession?
I really enjoy that no day, inspection or client is ever the same, as well as the fact that there is flexibility in terms of hours and types of jobs. I also benefit from working in an office with several colleagues, so the opportunity to bounce ideas off of each other and collaborate on projects allows me to work both independently and with a team.
You specialize in agricultural and residential appraisals. How did those areas of specialization develop? Do you have plans to eventually specialize in any other areas?
I was first hired at S.W. Irvine & Associates as a residential appraiser, but, with my horseback riding background, I have always been around farms and that was my real interest. S.W. Irvine & Associates, then and now, has a large agricultural department and I was fortunate to move to a different department at the end of my contract and continue to learn in the area that interested me the most.
I want to diversify my practice and am currently in the beginning stages of studying Machinery & Equipment Valuation. I want to add this to the ranges of services offered by our firm.
What motivates you to succeed?
I am responsible for numerous projects at one time and I am very interested in developing tools to help automate repeatable tasks. I am motivated by the ability to better serve our clients by increasing customer service, as well as the quality and accuracy of our work, while simultaneously reducing turnaround times.
Similarly, I have always been motivated by the desire to meet deadlines. Setting and reaching deadlines gives me a sense of accomplishment. I physically write down 'maker' and 'manager' goals for each day. This helps keep me on schedule and organized, which, in turn, allows me to achieve greater goals.
What are the biggest challenges you see facing the profession?
The main challenges I see are access to information, data mining, Appraisal Management Companies, competing organizations and Automated Valuation Models. The AIC does an excellent job of lobbying for our profession and services, both on a national and provincial level. Thanks to its continued advocacy efforts, I am optimistic that we will be able to overcome these challenges.
One of the biggest challenges facing new members in our profession is finding mentors with experience who will take an active interest in educating new appraisers.
Do you have any advice or suggestions for people entering the profession?
When new appraisers enter the job market and start getting relevant work experience, they should make sure that the experience they acquire is varied. New appraisers start at the bottom of the pay scale; why not take this time to explore the industry and learn which part they like or – perhaps more importantly – dislike? Once they have narrowed the broad industry down to the specific area in which they would like to work, they will be more confident about the value, time and costs associated with continuing education, including designation.
How do you approach your volunteer activities with the AIC? Do you see this ongoing during your career?
I was recently re-elected for a second term as Region 2 Division Director on the AIC – Ontario Board of Directors. I had never sat on a Board of Directors before, so the formality and structure of the meetings took some getting used to. Fortunately, all the Board members were willing to help and they made the experience very inviting.
Being on the Board has provided me with more opportunities than I could have ever imagined: interacting with an entire network of successful, motivated volunteers from all over Ontario and having the ability to attend provincial and national conferences on my Region's behalf are just a few of the advantages. I certainly plan to continue volunteering throughout my career at either the chapter, provincial or even national level.
Is volunteer involvement an important part of an appraiser's career development?
I definitely think that volunteering in your profession in any capacity is an important part of career development. From the fee appraiser's perspective, I find that people can limit themselves to their small markets or their individual offices. It can be beneficial to expand your network by connecting with other appraisers who work in different markets, have different specialties and have set up different work arrangements.
The sacrifice of personal or work time associated with volunteering in any profession is often perceived as too great. If an individual has the means and flexibility, however, I highly recommend that they give it a try. Simple things like candidly asking colleagues who volunteer about the time they devote can be helpful in deciding if a particular volunteer position is right for them.
How do you spend your personal time away from work?
In addition to horseback riding, I like to spend time working on my budding skills as a golfer. I also play three-pitch softball in a recreational league.
I want to travel one or twice a year and discover new places. This year, I went to Quebec City for the AIC Annual Conference and extended my trip by a few days to explore the city. The following month, I headed west to the Calgary Stampede and Banff National Park. I definitely want to continue making time for trips like these.