Launch of CUSPAP 2020
Canadian Property Valuation Magazine
Search the Library Online
---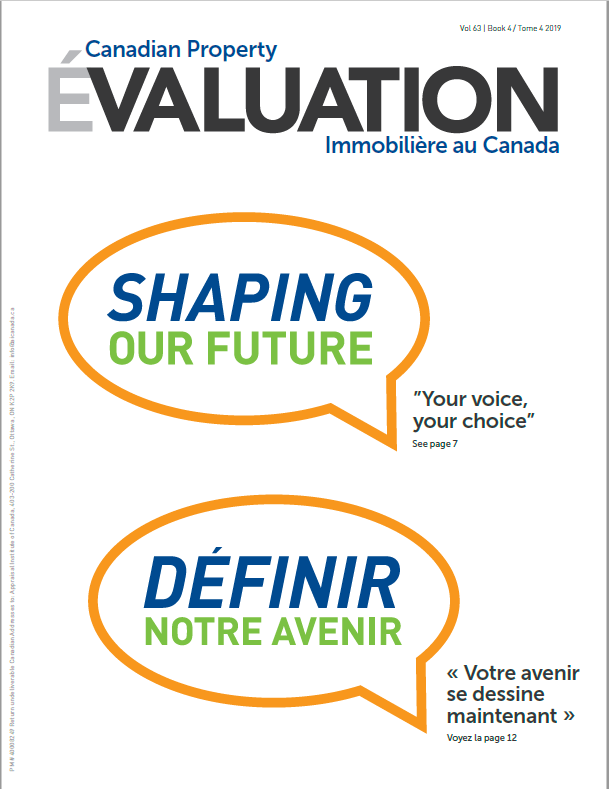 2019 – Volume 63 – Book 4
Launch of CUSPAP 2020
---
PROFESSIONAL PRACTICE MATTERS
Launch of CUSPAP 2020
In October 2019, the Appraisal Institute of Canada (AIC) Board of Directors approved the final version of the 2020 Canadian Uniform Standards of Professional Appraisal Practice (CUSPAP 2020). The CUSPAP and NUPPEC (les Normes uniformes de pratique professionnelle en matière d'évaluation au Canada) documents have been posted to the AIC website in order to give Members an opportunity to familiarize themselves with the document before they are required to implement any changes into their practice.
CUSPAP and NUPPEC 2020 will come into effect on January 1, 2020.
To provide Members with some guidance on the changes introduced in CUSPAP 2020, the list below highlights the key changes. It is not an exhaustive list. Members wishing to review a comprehensive list of the changes made in CUSPAP 2020 may refer to Appendix B in the CUSPAP 2020 document.
Key changes in CUSPAP 2020:
Introduction of a Reporting Standard
In past versions of CUSPAP, several Standards had rules and their corresponding comments that were common to all. These Rules and Comments were repeated throughout the CUSPAP document.
For 2020, these repeated Rules and Comments have been gathered together in one Reporting Standard to reduce the amount of repetition in the document.
Every report must comply with a set of common rules (Reporting Standard) and with the Standard that is appropriate for the assignment being completed. For example:
A Real Property Appraisal Assignment must be prepared in compliance with the Reporting Standard and the Real Property Appraisal Standard.
A Review Assignment must be prepared in compliance with the Reporting Standard and the Review Standard.
A Consulting Assignment must be prepared in compliance with the Reporting Standard and the Consulting Standard.
A Reserve Planning Assignment must be prepared in compliance with the Reporting Standard and the Reserve Planning Standard.
A Machinery and Equipment Assignment must be prepared in compliance with the Reporting Standard and the Machinery and Equipment Standard.
A Mass Appraisal Assignment must be prepared in compliance with the Reporting Standard and the Mass Appraisal Standard.
Practice Notes separated from CUSPAP document
Practice Notes have been taken out of CUSPAP and are now a stand-alone document. They continue to be the premier resource for best practices and will continue to be a valuable resource in Members' everyday practice. Removing Practice Notes from CUSPAP allows the AIC to update them at any time during a cycle, making them more agile and responsive to the situations Members face in the modern appraisal world.
They are posted on the Member section of the AIC website. Members are encouraged to check them often.
7.12 Reporting Standard Comment 7.12 Responsibility
The Professional Assistance of inspection by a non-member was introduced in CUSPAP 2018 at section 7.26, 'Responsibility.' When the exposure draft of CUSPAP 2020 was released earlier this year, some Members raised concerns about the section despite the fact that it remained unaltered from the previous version. These Members were particularly concerned with section 7.12.3 addressing professional assistance of inspection received by a non-member, whether that person is an individual or an employee of a company/organization authorized by the AIC to provide inspections.
Their concerns included:
The potential for a Member to be unable to choose the individual employee of a corporation who performs the inspection.
The potential tarnishing of the AIC brand/reputation by sending non-members to homes for inspection.
Homeowners potentially confusing an inspection technician with an appraiser.
The erosion of contact between an appraiser and clients/homeowners.
Appraisers losing control over the quality of a component of their product and services.
Larger corporations having an unfair competitive advantage over sole proprietor appraisers/smaller firms.
AIC considered these concerns and made revisions to this section to address them.
Mass Appraisal Standard
The Mass Appraisal Standard was introduced in CUSPAP 2018. After requesting feedback from non-fee Members in assessments offices in every province, the Mass Appraisal Standard was revised and augmented to provide our non-fee Members with more detailed guidance
Consulting Standard
A consulting assignment type has been added to the Consulting Standard Comments: AVM Output Validation. This is a real property appraisal assignment or consulting assignment where a Member provides professional services in association with reviewing AVM data output.
It is distinct from a mass appraisal assignment as it is considered to be an Appraiser-Assisted AVM. An AVM Output Validation is undertaken to determine if an intended user's particular course of action is or is not supported by market evidence.
New choices for completing the Professional Practice Seminar (PPS)
In conjunction with the launch of CUSPAP 2020, there will be changes to Members' options for completing the Professional Practice Seminar.
The Mandatory PPS will be moving to online, on-demand English and French versions available through our post-secondary education partners.
Provincially hosted classroom sessions may still be available in your province. For those Members who prefer to take the PPS in a classroom setting, please contact your provincial association for information about the availability of classroom PPS sessions in your province.
Continuing Professional Development (CPD) requirements for the PPS are changing as well. In the upcoming 2020/21 CPD Cycle, Members will be required to complete the PPS within 12 months of the date the PPS becomes available. All Members will be notified of the date of availability by communique and direct email.
The PPS for 2020/21 will once again include testing. This valuable teaching tool has been absent from the PPS for several years, but will be reinstated in the upcoming 2020/21 CPD Cycle. Members should be prepared to complete several quizzes throughout the course of the PPS.