New rules and regulations for using drones in your appraisal practice 
Canadian Property Valuation Magazine
Search the Library Online
---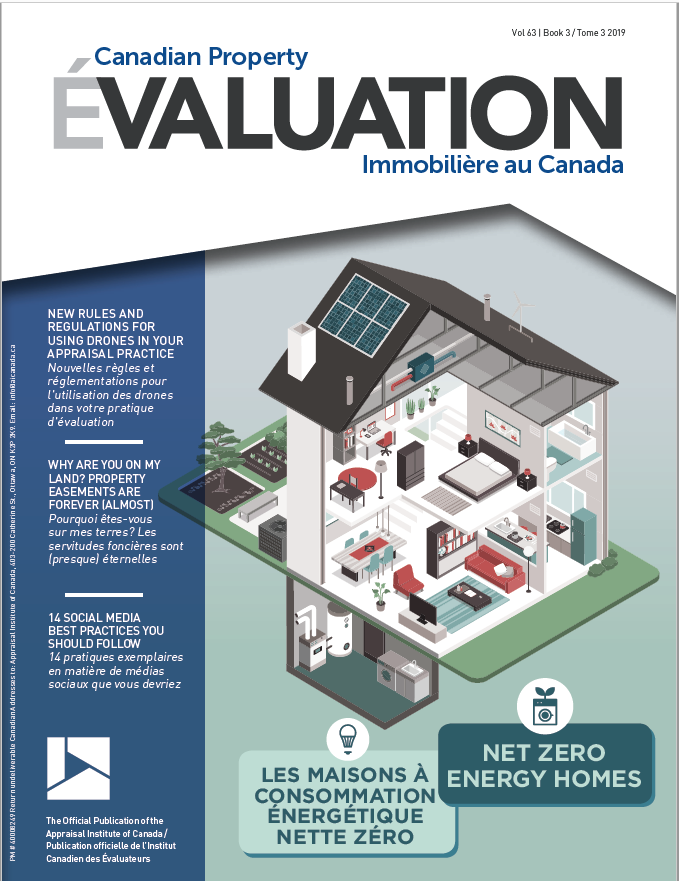 2019 – Volume 63 – Book 3
New rules and regulations for using drones in your appraisal practice 
---
New rules and regulations for using drones in your appraisal practice
By Jason Schellenberg, AACI, P. App, Red River Group Real Property Solutions
Over the past several years, as the popularity of drones has grown both for recreation and commercial purposes, Transport Canada (TC) has created a new set of rules for the safe use of drones. Drones are also commonly called Unmanned Aerial Vehicles (UAVs) and now are being officially termed as Remote Piloted Aircraft Systems (RPAS). For simplicity, I will use the term 'drone' as that is still the most common term used both by the public and in the industry, including on most of the TC website.
As of June 1, 2019, a new set of regulations came into effect, which add clarity for those wishing to take to the skies. While opinions are mixed as to whether they are an improvement or not for those who were operating within the guidelines of the previous rules, my goal here is to give a brief overview of the main elements that have changed since my last article. For more on what the prior rules were, please see my previous article entitled An Appraiser's Eye in the Sky which appeared in Canadian Property Valuation (Volume 61, Book 3).
Commercial vs personal use of drones
One of the big changes is the elimination of a different set of rules for commercial and non-commercial use. This was a somewhat grey area in the past when commercial use required a Special Flight Operations Certificate (SFOC) in most situations, with an annual application to TC. While an SFOC is still required in a few specific situations (such as at concerts or sporting events near people), these will rarely be needed (and I do not anticipate ever needing one for my purposes).
Size matters
The new regulations are applicable to all drones weighing 250 grams to 25 kilograms. If you want to fly a drone in that weight range, you must now register it with TC for a one-time cost of $5. As part of this registration, the drone is assigned a registration number, which needs to be marked on the drone. If you want to fly a drone that is under 250 grams (classified as a 'Micro' drone by TC), there is no need to register or have a pilot certificate, but it is still required that you 'fly responsibly.'
General guidelines
Drone pilots need to maintain visual line of site (VLOS) and thus cannot use first person view goggles. You also cannot fly higher than 122 metres (400 feet) above ground level (although there are some exceptions with permission). The drone pilot must also complete a site survey and consult the appropriate sources and charts regarding airspace in which they will be flying. On a positive note, flying at night (with proper positional lighting) is now permitted for recreational uses.
Basic vs Advanced pilot certificate
With the new rules, there is now the requirement to get a drone pilot certificate to fly a drone weighing between 250 grams and 25 kilograms (classified as 'Small' by TC). You can get a drone pilot certificate by taking an online knowledge test. The kind of air space you want to fly in determines whether you need a Basic or Advanced pilot certificate. I have taken ground school training and was able to pass the exam on my first attempt, but it is highly recommended that anyone looking to become a drone pilot take drone flight school training (sometimes called a ground school), as many of the questions would be impossible to answer without that knowledge base. Flight schools are available both online (self study) or in classrooms. There is also a 'recency' requirement with the pilot certificates, which means that, within 24 months of the flight, recurrent training is needed to have been taken (such as a self-paced study course or attendance at a TC-endorsed safety seminar).
If you meet all three of the following conditions, you are conducting Basic operations:
You fly only in uncontrolled airspace (Class G – more on that below)
You fly more than 30 metres (100 feet) horizontally from bystanders
You never fly over bystanders
The Small Basic exam has 35 multiple-choice questions, with a mark of 65% required to pass, and you have 90 minutes to complete it. As it is an online test, you get the results immediately. The cost to take the test is $10 and, if you do not pass, you can try again in 24 hours for another $10. Pilots must be at least 14 years of age for Basic operations (unless supervised by a person having proper qualifications).
If you fail to meet any one of these conditions for Basic operations, then a Small Advanced Pilot Certificate is needed.
If you want to do any of the following, you need a Small Advanced Pilot Certificate:
To fly in controlled airspace
To fly over bystanders
To fly within 30 metres (100 feet) horizontally from bystanders
The Small Advanced exam has 50 multiple-choice questions that you have 60 minutes to complete, and a mark of 80% is required to pass. The cost and requirements on re-taking the test are the same as the Small Basic exam. After passing the Small Advanced exam, you also need to complete an in-person flight review with a flight reviewer in order to receive your pilot certificate. Pilots must be at least 16 years of age for Advanced operations (unless supervised by a person having proper qualifications).
Once you have your pilot certificate, you also need a drone that is approved for advanced operations. This is referred to as RPAS Safety Assurance and TC maintains a registry of which drone models are approved. Some of the more common drones approved for Advanced operations from manufacturer DJI (which makes the most popular line of drones) include the Phantom 4 series, Mavic series and Spark. A full list is available at the TC website and is constantly being updated as manufacturers meet TC requirements.
Before you fly in controlled airspace, you also need to contact NAV Canada for an RPAS Flight Authorization for the specific date, time and location of your flight (which can take between 2-14 days). As weather conditions can prevent flights from happening, this makes flying in controlled airspace difficult.
Brief airspace overview
While a full examination of airspace is beyond the scope of this article, a brief overview is useful. There are three main kinds of airspace that a drone pilot will encounter.
Class G – Uncontrolled Airspace (most of Canada)
Class C, D, or E – Controlled Airspace (typically near larger airports)
Class F – Special Use Airspace (includes military use and areas around nuclear sites)
The National Research Council of Canada publishes an online tool at https://nrc.canada.ca/en/drone-tool/ which shows a map of restricted airspace and areas where to exercise caution. This is not an exhaustive resource and it is recommended that, prior to each flight, drone pilots conduct a survey of the area and also consult the following reference material:
Notice to Airmen (NOTAMs) for the flight location
The Canada Flight Supplement
The Designated Airspace Handbook
Appropriate aeronautical charts relevant to the area you are flying
In general, unless you are following TC procedures, you cannot fly closer than 5.6 kilometres (three nautical miles) from any airport listed in the Canada Flight Supplement and you cannot fly closer than 1.9 kilometres (one nautical mile) from heliports or aerodromes used by helicopters only. Drone flights are also not permitted in national parks, emergency sites, or near or over advertised events such as outdoor concerts or sporting events. In each case, permission may be sought, but may not be granted.
Final comments
I have obtained my Small Basic Pilot Certificate and registered my DJI Phantom 3 Professional drone with TC. While I would like to get my Advanced Pilot Certificate at some point, most of the times I use my drone are in rural areas in Class G airspace. Between that and the need to upgrade to a newer drone for Advanced operations, I have thus far decided to stick to Basic operations. For my current needs, the added investment in time and money is more than I want to make.
Overall, I feel the new rules are clearer, as they require some basic knowledge of how to operate a drone safely.