A Professional Appraiser's Perspective on Appraising Machinery and Equipment
Canadian Property Valuation Magazine
Search the Library Online
---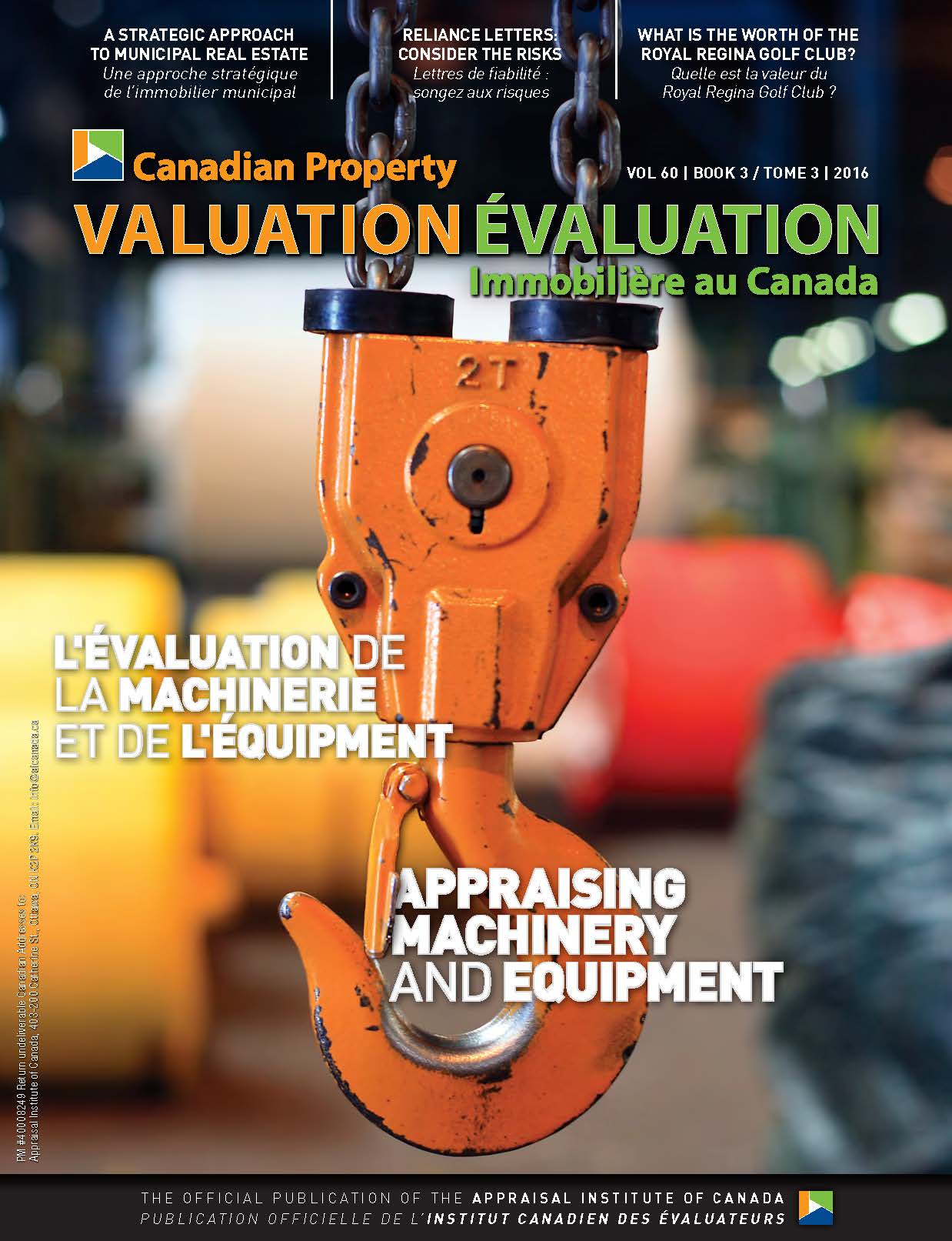 2016 – Volume 60 – Book 3
A Professional Appraiser's Perspective on Appraising Machinery and Equipment
---
Darrell Thorvaldson, AACI, P.App has been the president and owner of Thorvaldson Appraisal Ltd. in Winnipeg since 2004. He earned his designation from the Appraisal Institute of Canada (AIC) in 2003; was the Institute's Counsellor, Professional Practice from 2011 to 2012; served on a variety of provincial and national committees dating back to 1999; and became a National Director on the AIC's Board in 2015. Throughout his long and distinguished career, Darrell has been an active participant in ongoing professional development, most recently taking a number of courses in machinery and equipment valuation offered by the American Society of Appraisers (ASA). Having diversified his practice into this challenging and rewarding field, he presented on this topic at the AIC 2016 Annual Conference in Winnipeg and shared his perspective on the subject with Canadian Property Valuation.
What prompted you to diversify your practice into the area of machinery and equipment valuation?
DT: I began my career appraising residential property and then continued to move into commercial, industrial, agricultural and other types of special purpose properties. In the valuation profession, at one time or another, we have all fielded requests for assignments to appraise different property types. Over a period of many years, I had repeated requests from clients to appraise their machinery and equipment as well as their land and buildings. This accelerated to the point where I decided that I was no longer going to say that, "I can appraise the land and buildings, but I cannot do the equipment for you."
Our Canadian Uniform Standards of Professional Appraisal Practice (CUSPAP) require analysis on the effect of any personal property when it is necessary, and I decided to open that door further to begin the journey towards gaining more competency in this very vast field. It has been part of a natural progression for me to continue to diversify.
What specific types of machinery and equipment can be involved in this type of appraisal?
DT: Diversity is the exciting part of the machinery and equipment appraisal field. The typical machinery and equipment classes include production machinery and support equipment, which usually represents a large percentage of a typical plant. An industrial centrifuge and a milling machine are examples of this. Motor control centres and switchgears is another classification that also includes foundations and platforms to support the equipment. Process piping is a classification in the appraisal of manufacturing assets that are involved in food processing or chemical manufacturing, for example. Rolling stock includes such things as tractors, trucks, cranes, loaders and other equipment not licensed for road use. Licensed vehicles include material handling delivery trucks and trailers. Laboratory and test equipment includes a wide range of specialized operational equipment such as spectographs. Construction-in-progress (a machine being installed), permanent and perishable tools, as well as office furniture, fixtures and equipment may be included in some assignments. There are also specialty machinery and equipment types including aircraft and inventory.
In what situations or for what organizations would the valuation of machinery and equipment be required?
DT: Appraisals are needed for a variety of reasons by almost every type of organization. Typical intended uses include ownership transfer, management (internal financial) considerations, financing, leasing, insurable value determination, purchase price allocation, assisting with a liquidation value estimate for business insolvency, dissolution of corporations/partnerships/marriage, tax planning and estate planning. For these reasons and more, many companies, accounting firms, financial institutions and individuals require the services of a machinery and equipment appraiser, as do public organizations, such as regional health authorities, universities and colleges, crown corporations and government departments.
How would you describe the process involved in valuing machinery and equipment?
DT: The basic valuation process for appraising machinery and equipment is not much different from the appraisal of real property. Generally speaking, the steps include defining the problem, determining the relevant definition of value, identifying the property, collecting the data, conducting the valuation analysis (including the approaches to value), and reconciling with the final estimate of value. However, while the actual processes are similar to those involved in real estate appraisal, there are differences in the specific methodologies.
What are some of the differences from appraising other types of property?
DT: The challenge with machinery and equipment valuation is that an appraiser should thoroughly research the industry before the actual site visit. Interviewing owners, plant personnel, maintenance engineers and equipment mechanical personnel is a critical part in the valuation process, and it is important to gain their confidence by demonstrating that you know what they are talking about.
Locating sales information and market data is also a very difficult and critical aspect of machinery and equipment appraisal. Real estate sales are registered with provincial land titles offices and registries, as well as local real estate boards. However, machinery and equipment sales are obtained through reliable databases, current offerings, and independently verified transactions occurring through public and private sales, auctions, dealers and manufacturers.
Aggregation of assets is another concept that is distinct from real estate appraisal in that a significant number of specific assets may be grouped together in the analysis, depending on the scope of work and terms of reference. An example would include a simplified asset description shown in the report as '1 lot of power tools.' This all depends on the scope of work requirement and the need to strike a balance to achieve necessary detail.
Are there different degrees of complexity in valuing these types of assets?
DT: Definitely. What may seem to be a simple assignment could, in fact, be the most time-consuming and complex. For example, the valuation of a newly purchased autoclave to establish fair market value could become very complex when the appraiser, after following the AIC Machinery and Equipment Appraisal Standard Rules and Comments in CUSPAP 2016, realizes that provincial regulations governing minimum standards for this particular piece of equipment have changed and that the equipment no longer meets minimum standards necessary to complete its originally intended use. The estimate of fair market value could approach liquidation value in this circumstance.
Elements of comparability can be very complicated, as the subject may have accessories and features, capacities, conditions and chronological/effective ages that are quite different from other exchanged assets. Markets may be local, provincial, national or international and appraisers must be familiar with the applicable market.
Estimating physical depreciation, functional obsolescence and economic obsolescence in the world of machinery and equipment is never straightforward and must always be approached with the understanding that complexities can quickly become geometric in nature.
Other examples of machinery and equipment complexities can range from as narrow as determining the authenticity of an individual asset being appraised, to as wide as valuing an entire manufacturing operation or process plant.
Are there specific standards of practice relative to valuing machinery and equipment?
DT: On May 1, 2016, the AIC added the Machinery and Equipment Appraisal Standard to CUSPAP 2016, with specific Definitions, Rules, Comments and Practice Notes. This new standard enables competent and qualified AIC-designated Members to expand their scope of practice to include machinery and equipment appraisal assignments. This is a comprehensive standard with 23 Rules and 21 Comments that must be addressed in every appraisal report.
What are the biggest challenges an appraiser might face in carrying out this type of assignment?
DT: One of the biggest challenges tends to be the discussion that flows immediately after the client has explained the circumstances and the need for a valuation. Some circumstances may be typical, but others certainly are unique and the engagement of the assignment may demand a specific definition of value. For example, there could be a circumstance where Fair Market Value-In Continued Use reasonably applies, whereas another requires Orderly Liquidation Value.
Another challenge is learning how to identify and list assets through macro-identification procedures, such as summarizing part of a process plant or batch plant involving a number of complex equipment components forming an assembly line into one identifiable line in the appraisal report, and also micro-identification procedures involving brand names, model numbers, serial numbers, power types and dimensions.
This type of appraisal can also be challenging when assets cannot be inspected for a variety of valid reasons, such as being located in a remote or hazardous area. The appraiser must rely on the client's information and clearly explain in the report how these assets were accounted for. The AIC Machinery and Equipment Appraisal Standard addresses these situations.
Is this now a significant part of your practice or do you anticipate it being so in the future?
DT: It is definitely a growing part of my practice and, based on the requests I receive from the marketplace, I see nothing that would prevent me from continuing to expand and diversify in this area.
Can you offer any suggestions as to where appraisers would source this type of work?
DT: There are many industry sectors requiring this expertise, and not only for financing, investment, or subsequent disposal of surplus property. Legal counsel, accountants and business leaders can all have occasion to seek out qualified and competent machinery and equipment appraisers.
If AIC members want to expand their practice into valuing machinery and equipment, how should they go about acquiring the necessary knowledge and skillset?
DT: The University of British Columbia offers a continuing professional development (CPD) course entitled CPD 118 Machinery and Equipment Valuation. This is a great introductory course for anyone thinking about diversifying his or her practice. It introduces the concepts and techniques to real property appraisers.
As well, the AIC has now partnered with the world authority in machinery and equipment education – the American Society of Appraisers (ASA) – to offer a machinery and equipment educational program to AIC members (Note: see the sidebar to this article).
There has never been a better time for AACIs, CRAs and Candidate members of the AIC to acquire the necessary knowledge from these courses and work towards competency in this challenging and rewarding field.
*SIDEBAR
AIC and ASA launch education partnership for machinery and equipment appraisals
On June 6, 2016, the American Society of Appraisers (ASA) and the Appraisal Institute of Canada (AIC) announced a new educational partnership that will enable AIC members to acquire the competency to complete machinery and equipment appraisal assignments in Canada. The ASA is offering its highly recognized education program, the Machinery and Equipment Valuation Program, to AIC members at the same ASA member-discounted price.
This comprehensive education program includes four courses, including:
Need more information?
E-mail the AIC at
For a copy of Frequently Asked Questions, please visit this link.
Visit the American Society of Appraisers' website at this link.
For more information about ASA's Machinery & Equipment Valuation Program, please visit this link.
For a copy of CUSPAP 2016, please visit this link.
-30-