The Future is Bright
Canadian Property Valuation Magazine
Search the Library Online
---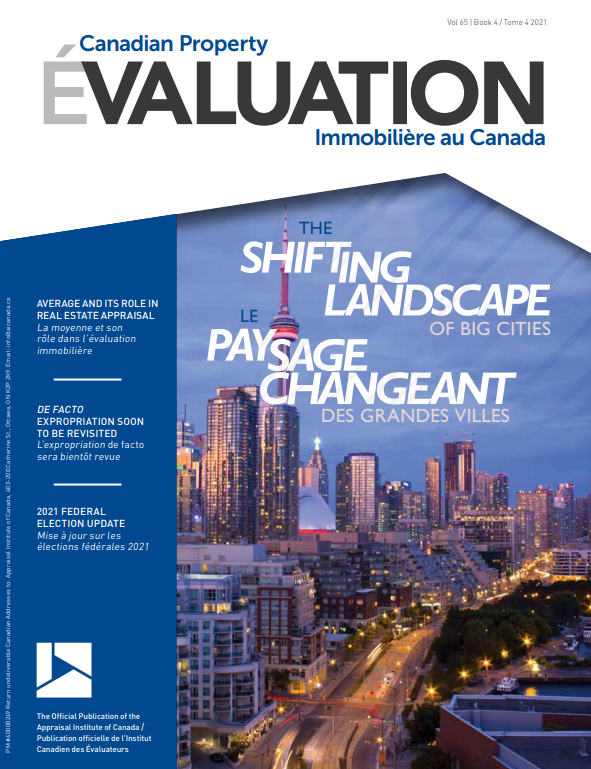 2021 – Volume 65 – Book 4
The Future is Bright
---
Nicholas Jang, 3rd Year Candidate Member: Motivated by the profession's critical thinking and decision-making opportunities
What is your educational background and work experience?
NJ: I hold a diploma of Urban Land Economics and a Bachelor of Business in Real Estate from the University of British Columbia.
I also hold a license of real estate trading services.
What motivated you to choose the appraisal profession?
NJ: Throughout university, it was apparent that my interests leaned more toward the analytical side of real estate. While many of my peers focused on real estate development and commercial brokerage, I was looking for an opportunity within real estate that would allow me to apply my critical thinking and decision-making on a routine basis. Going into my fourth year of university, I was exposed to the appraisal profession through a summer internship. This internship continued into the semester and ultimately resulted in me becoming a Candidate member for the Appraisal Institute of Canada (AIC).
What is your current position in the industry and what does your job entail?
NJ: I currently work at Garnett Wilson Realty Advisors in Vancouver as an appraisal associate. In this role, my primary responsibility revolves around assisting with the preparation of appraisal reports. This has provided me the opportunity to work on a variety of asset classes that are not limited to industrial, retail, and multi-family residential properties.
What do you enjoy most about working in the real estate valuation profession?
NJ: I absolutely love the new challenge that a project file presents. No two properties are alike, which makes valuing each of them a very unique experience. The diversity in the scope of my work allows me to learn something new every day and expand my critical thinking skills.
Which AIC designation are you pursuing and what is your timeline for achieving that goal?
NJ: I hope to earn my AACI, P.App designation by early 2023. All I have left to complete is the demo, work product review, exam, and interview. I became a Candidate member of the AIC in 2019 following my third year in university. If all goes well, completing the entire process will have taken me under four years.
What challenges does the designation process present for you from both a work and personal perspective?
NJ: One of the most significant challenges throughout the process is the time management constraint. Since most Candidates are employed in full time jobs, while also working to complete the educational requirements to earn their designation, it can be difficult to meet course deadlines and maintain a healthy work/life balance.
From your own personal experience, how would you evaluate the designation process?
NJ: I feel that I have been truly blessed to have had the opportunity to combine the educational requirements of the AACI designation and the course requirements of my Bachelor degree. This combination allowed me to get a head start on the designation process prior to starting a full-time job.
How do you feel the designation process is preparing you to meet the challenges of your career?
NJ: The entire designation process is a comprehensive learning journey that strongly prepares Candidates to meet the challenges they will face in their careers. The robust nature of the program ensures that Candidates receive objective third-party feedback on their work. This provides a unique perspective that is invaluable.
Looking back, was there anything you would have done differently throughout the process?
NJ: The only thing I would have done differently would be to start the work product review earlier in my candidacy. Getting a head start on my work product review would allow me to have more time to work on my demo assignment.
Who has helped or is still helping you on your career journey in a mentorship capacity? What has been the impact of having such a mentor or mentors?
NJ: Having experienced professionals guide me along the way has been absolutely critical to my success. I would like to personally thank the team at LW Property Advisors for giving me a chance as a keen, third-year university student. Without that summer internship, I would have never been introduced to the appraisal profession and the many learning opportunities it has brought.
Another group of mentors that I have had the honor of meeting and working with is the AIC-BC Board of Directors and the AIC-BC Membership Engagement Committee. Volunteering with AIC-BC has helped me grow both professionally and personally.
Going forward, what are your career aspirations?
NJ: A primary focus of mine is to gain broad experience across various asset classes. In terms of a specific organization that I would like to see myself working for, there is not a set destination. Personally, the biggest thing I look for in an organization is having continual opportunities to learn and develop yourself.
What motivates you to succeed?
NJ: My primary motivation is my desire for personal growth. Honing my craft as an appraiser goes a lot further than simply advancing my career. The satisfaction I get from overcoming challenges to complete a difficult appraisal file pushes me to power through and finish the reports.
What are the biggest challenges you see facing the profession in general?
NJ: The biggest challenge I see is an aging work force and a corresponding lack of recruitment. I believe campus recruitment of the next generation of appraisers should be a priority for the profession.
What are the biggest challenges facing people entering the profession?
NJ: The biggest challenges facing prospective appraisers are the educational requirements needed to obtain their designations. Candidates who do not have an undergraduate degree in business/commerce are at a significant disadvantage when it comes to career progression.
Do you participate in AIC events or serve on committees and, if so, do you see this ongoing during your career?
NJ: I volunteer on the AIC-BC Board of Directors as the provincial candidate representative as well as on the Membership Engagement Committee. These two experiences have been extremely rewarding for me and I hope to continue volunteering with the AIC in the future.
Do you see this kind of involvement as an important part of an appraiser's career development? What do you feel are the benefits of this?
NJ: I believe that this type of involvement plays an extremely important role in an appraiser's career development. One of the main benefits volunteering has given me is the opportunity to naturally expand my network. By expanding our networks, we may find opportunities or partnerships that we otherwise would not have known existed. It is also a great way to give back to the profession.
Do you have any advice or suggestions for people entering the profession?
NJ: Do not be afraid to put yourself out there and get out of your comfort zone. That is how you stretch yourself and expand your experiences and your capabilities.
How do you spend your personal time away from work?
NJ: I really enjoy trying out new restaurants, binging Netflix, and traveling.