What to do with a slightly used office building
Canadian Property Valuation Magazine
Search the Library Online
---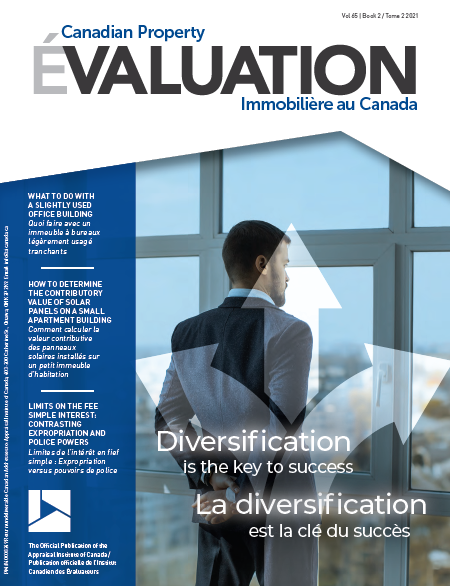 2021 – Volume 65 – Book 2
What to do with a slightly used office building
---
By Randy Wyton, AACI, P.App, Essex Appraisal Group
It is 2021 and vacancies in downtown office towers across even the strongest Canadian markets are experiencing vacancies of 20% or higher. In late February, a news report stated Vancouver has 90 acres of vacant downtown office space. Office users are minimizing the size of their leased space to reduce costs as employees grow accustomed to working from home. It is a burgeoning reality that will eventually come to roost with the owners of these empty buildings.
In the wake of Covid-19 and the new 'work-from-home' lifestyle, owners and lenders are taking a long, hard look at what is to become of the ubiquitous 10-storey, 'B' class building on the periphery of downtown that is quickly falling out of favour. Buildings like this cannot compete with the upscale 'A' class buildings in the core that, despite having the advantage of location and quality, are also struggling to maintain market share. Filling up current vacancies in the future looks like a daunting task given the negative absorption statistics showing up in all markets across the country. Attempting to improve the competitiveness of a 'B' class building by spending capital funds to maintain office rents of $1 per square foot monthly is increasingly looking like a bad idea. Despite the current outlook, there are options to explore. One of these options would be conversion to new uses. It would be worthwhile to explore opportunities to re-position properties into the residential market where rents are up to $2-$3 per square foot.
While the office sector of the real estate market struggles with vacancies, the demand for multi-family housing of all types remains relatively robust. During this first year of pandemic economic contraction, residential market sectors apart from central core condos have fared quite well. To take advantage of the strong residential markets, the wide path future trend will be to target these conversion efforts with a result for residential use.
This is not a new or innovative idea, nor is it a rubber stamp to success, but it is an option worth considering that might bring some life, energy, and profitability back into a waning enterprise. There have been numerous examples of successful conversions in most major Canadian markets for the past few decades. Currently, in Alberta, building owners are slightly ahead of the curve given the early onset of office vacancies with the contracting oil industry. Both Edmonton and Calgary have seen recent conversions move through the process to occupancy.
But, in addition to the office to apartment conversions, there are other versions of conversion such as warehouses to residential, retail buildings to churches, churches to offices or homes, hotels to senior's housing, etc. To focus on the most prevalent form of conversion, this article will provide some guidance within the context of an office building converting to apartment housing, either condominium or rental. The following is a profile of some of the key factors that need to be addressed to start down the path to conversions.
Property suitability
Not all buildings are created equal. Coupled with that, office buildings have not been designed to accommodate housing and are not necessarily located on sites suited to residential use. As such, a frank assessment must be made of the property's assets and liabilities for conversion. This assessment not only deals with the structure but equally, thoughtful consideration should be paid to the location of the property and its surrounding environment. At the end of the conversion process, the goal is to create a place where people want to live and, at the same time, create a property capable of generating a viable return on investment. There are several points to address in this assessment:
Location
Structure scale and shape
Structural assets
Zoning
Market
Location – As is the case with nearly all forms of real estate, location plays a key role in conversions. If people are going to live there, the location must meet the needs of residents. This might include parks, transportation, schools, shopping, i.e., any number of characteristics defining a neighbourhood. Many Canadian urban centres have older peripheral neighbourhoods with tree-lined streets, parks, river valleys, ocean fronts, golf courses, etc. In these older peripheral areas are the 'B' and 'C' class buildings that form the most likely basis for conversions. By contrast, locations in suburban areas may not provide the cachet necessary to attract occupants.
Corner lots tend to work best for conversion. These provide for at least two of the building's exposures to have unobstructed outward view lines. In addition, corners provide for better exposure to street frontages and greater accessibility. Having larger expanses of exterior visibility makes it easier to 'dress up' a building and change its perception from commercial use to an attractive residential impression.
Structure scale and shape – After location, the structure's size and configuration are the likely downfall for most conversion candidates. Floorplates are a crucial element in design considerations. In developing residential spaces, window space is the key. If the floorplates are square and have too much floor area mass in the interior of the structure removed from the windows, the opportunity for conversion is limited. Floorplates should be configured in such a way that at least 15-20 feet of window space can be provided into a one-bedroom space of roughly 600 square feet. This allows for living room and bedroom windows. With two bedrooms or 800-1,000 square feet, there may be a need to have at least three window exposures needing up to 30 feet of exterior exposure. Both of these scenarios would mean floor space up to 30 feet deep away from the windows. Even at that distance, lighting must address the potential for shaded areas. If floorplates do not allow for this type of configuration, conversion potential may suffer.
Ideally, there should be windows on all sides of the building allowing for a residential floor plan that fills the suite with light and gives the resident some sense of exposure to the outside world. A rectangular shape is likely ideal. This allows for a central corridor through the floorplate with suites flanking to both sides using the windows along the long exposures of the building. South-facing windows are the prime exposure.
The size and shape of the floorplates are of some importance as well. Elevator corridors should be centralized to allow suites to be developed around the core. Centralized access cores result in limited common area space. Conversion costs can be lessened and revenues increased significantly with less interior common area space to finish.
Elevators are an important consideration as well. Usually, office buildings are equipped with more elevator capacity than a traditional apartment buildings. This might mean one elevator shaft can be used for servicing. One downside to office building elevators is they are often smaller than residential elevators. If existing elevators are too small to handle couches and beds when residents move, then other alternatives must be considered.
Structural assets – This would deal with a close and technical consideration of the physical elements of the building such as HVAC suitability, floor heights, structural construction elements (concrete versus steel), location of supporting members, foundation and underground parking, outdoor common area space, plumbing and electrical, lobby sizes and layouts, building setbacks, and exterior style, to name a few. Essentially, this is an exercise to examine what elements of the current building could be used in the conversion and what elements need to be changed, and at what cost.
One of the keys to this asset assessment might be parking. Until recently, municipalities were keen to ensure suites had dedicated stalls. However, there are now market and planning forces in play suggesting that parking requirements may no longer be addressed by municipal regulation but dictated instead by the market. Recently, Edmonton's city council abandoned all parking requirements for its residential occupancies. This was done to lower restrictions on core developments and to place the responsibility on developers to ensure they have the parking they need for any given development. At any rate, conversion buildings in core locations may have limited parking on-site and the conversion may not need large parking facilities.
Zoning – After a full assessment concludes that a conversion is physically viable, the next step is to proceed through municipal approvals. Although municipalities are becoming more flexible with their planning processes, especially in high-density urban areas, zoning may prove to be the biggest challenge for many conversions. In all likelihood, the current zoning for most of these old office buildings will not be suitably fit for residential use. The best answer might be a site-specific Direct Control zoning that would see a municipality approve a specific plan for the property in question. Often, Direct Control zonings are the best way to handle situations where an existing building with long-term viability issues can have its re-invention dovetailed into a community. Working in favour of these conversions is that they are generally located in urban cores where most jurisdictions are seeking ways to increase population density to make use of existing infrastructure. Generally speaking, there is an overarching mindset and desire by cities to bring more population to the urban core, coupled with a need to find uses for older class 'B' office buildings that are struggling with economic viability. Rebuilding and stabilizing the property tax base will also be a primary driver for cities to find ways to get these conversions through the planning and permitting steps.
Market – At the end of the day, these conversions need to result in a property type that has stronger economic viability than its predecessor office use. In the housing sector, the convertor can consider several options and balance those options against the cost and the local market demand. Given the costs involved in conversion, most converters will opt for market housing and likely gravitate to higher ends of the market using preferred urban core peripheral locations. That being said, there are some equally attractive sectors to consider, such as senior, student or affordable housing. The latter sector of the market is in high demand and the federal government is responding to that demand through the National Housing Strategy initiative. The government has committed $55 Billion in a 10-year plan in an attempt to bring 125,000 new homes to market. Accessing government programs of this nature requires addressing specific criteria and may not suit all buildings and situations, but this may be a viable use for many conversions.
Senior's housing is an excellent conversion use of office buildings. With 17% of Canada's population over 65 years of age, demand in this sector is secure and growing. Office buildings present a good structural opportunity to meet senior's needs with main level common areas, closed HVAC systems, the diminished need for balconies, and a different locational consideration. In the 1990s, a building in Edmonton known as Rosedale Manor was born out of an out-of-date office building and still thrives today. Student housing has a very similar format to senior housing in terms of communal areas and smaller suite sizes. Obviously, housing for students must address the location requirements in terms of access to education.
Must haves
For a conversion to compete on the market with traditional apartment buildings, there are some minimum requirements these buildings need to address. Balconies head this list. Private outdoor space is a must have in most residential applications, but especially so for conversion buildings that typically appeal to slightly higher price-point rentals. That being said, these are often a challenge in retrofits. The obvious answer to the problem is to simply add them, but there is a myriad of considerations from a structural and building envelope perspective. This is where a clear understanding of the building's physical assets can help to identify a pathway to a solution. Not only do balconies serve to provide private outdoor space that makes the suites more attractive, but they work well to alter the exterior profile and enhance the architectural appeal.
Common area amenity space would also be high on the list of 'must haves.' This would include outdoor patio or lounge areas, fitness rooms, meeting rooms, and game rooms. Essentially, the conversion needs to address the same lifestyle elements as a traditional apartment complex to compete in the same market. Working in the conversion building's favour is the likelihood of a large amount of ground floor space that may not be suitable for rentable suite use. Ground floors in conversions tend to lack the window space needed for suite use and may better lend themselves to amenity areas that do not require windows. Another benefit may be large flat roof areas being put to use as outdoor patios and lounges with impressive view potential.
Exterior renovations are a minimum requirement to move a building from the traditional austere commercial presentation to an upscale and visually inviting exterior infusing a sense of pride and home. As mentioned previously, the addition of balconies goes a long way towards changing the perception of a building along with some creative colour treatments. Addressing the front entrance with focus grabbing elements such as awnings and signage can also draw attention. The building shown in this example is a conversion project in Calgary that has capitalized on its corner location using new window treatments and an enhanced colour scheme to transform a rather bland exterior into an appealing place to live.
Perhaps one of the more challenging features to adopt into conversions is functional windows. By their very nature, office buildings have sealed window systems for climate control. A good climate control system may prove worthwhile in a conversion as well, but many residential occupants want a breath of fresh air occasionally. This introduces a myriad of issues in terms of how to introduce functional windows into an HVAC environment that may function best as a closed system. Balconies and patio doors will also serve to disrupt the balance. As such, convertors need to address air supply and control systems that work on an individual suite basis and bypass much of the HVAC systems in place for office use. As a broader point, the HVAC redeployment in a conversion requires strong advice from experts in the field that will have ramifications throughout the conversion process.
Alternate opportunities
In addition to the popular office to apartment conversion process, there are emerging other types of conversions demonstrating a much wider range of opportunities. Some end-use options to explore would include:
Educational Facilities
Office Condominium
Community Space
Mixed-Use
Entertainment
Restaurant
Storage
Office buildings are not the only sector of the market to be negatively affected by current events. Hotel properties have taken a major hit in the past year, with struggles foreseen for a few years to come. These properties also offer excellent opportunities for similar conversions and usually within the same market sectors. Retail properties will also see a shift, as consumers are now much more adept and motivated to buy online, leaving bricks and mortar stores with a need to redevelop or reposition.
Plan and consult
Conversions are a significant enterprise with many moving parts. The conversion process will present owners with new challenges and the need for strong guidance. Consultations should be sought from experts in terms of market study, physical building evaluation, capital finance, legal, architectural, and end-use operators. The place to start is with a feasibility study to address a property's advantages and disadvantages, along with an identification of the market sector best suited for the end product. With these elements properly identified, financial scenarios can be advanced to maximize return and create a long-term functional asset.