AIC Logo & Usage Guidelines
The Appraisal Institute of Canada adopted it's new visual identity and AIC logo early in 2008.
A Quick Reference Guide has been created and is available here to provide a detailed overview of the AIC identity. It outlines the basic graphic components of our mark, our logo versions, proper logo usage, corporate fonts, colour palette, and icon usage. These guides must be followed whenever the AIC identity is being used.
The now logo is vibrant and strong and is comprised of the following elements:
The orange element is inspired by buildings;
The blue element is inspired by both houses and the Institute's history;
The green element is inspired by land and the green movement;
Each of these elements surrounds an arrow which represents AIC looking forward.
AIC Members are encouraged to identify their affiliation with the Institute by incorporating the AIC logo into their  business cards, letterhead, website and other corporate materials. AIC has developed a Member Brand Policy to help Members use AIC's name and logo in agreement with CUSPAP 2018.
Logos for Member use are provided below:
AIC Membership Logo
As an alternative to the AIC Member Membership card, the AIC is also offering Members the option to download a new electronic AIC membership renewal logo for inclusion on their websites, business cards and other promotional material.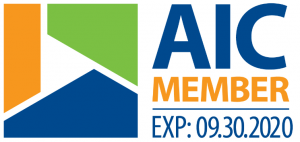 Click here to download the membership renewal logo for 2019/2020 (JPEG)
Click here to download the membership renewal logo for 2019/2020 (HMTL)
Click here for instructions on how to input the logo in your e-signature
For More Information
If you have any questions about the materials available here or on other marketing and communication issues, please contact Paul Hébert, Director, Marketing &Communication at PaulH@aicanada.ca.