Canadian Property Valuation magazine is a leading industry publication, distributed to AIC's entire membership, partners, libraries and national/international subscribers. It is the only national magazine dedicated to serving the Canadian appraisal community and features important technical and industry-related articles written by AIC members who are experts in the field as well as leading industry authorities. Download the most recent issues of the magazine below.
Interested in contributing an article?
We invite submissions for CPV magazine and accept articles from 600 – 2800 words. A high resolution photo and very short bio of the author is also required.  Upcoming content deadlines are:
♦October 7, 2016            ♦February 3, 2017            ♦April 14, 2017
Search CPV Articles Online
The "Search CPV Articles On-line" feature provides readers with the opportunity to identify articles related to specific topics and appraisal terms, by author, or by issue. Simply type in the search term and all the articles that include that search term will be listed below. You can click on the title of the article to read it online, or access an Adobe Acrobat version (.pdf) to print. Furthermore, the digital version of the whole magazine is accessible by clicking the "Interactive Digital Version".
  If you have any questions or suggestions, or would like to submit articles to be published in the CPV, contact
info@aicanada.ca.
Our Current issue:  2016 – VOLUME 60 – BOOK 3

In this issue . . .
A Strategic Approach to Municipal Real Estate
Appraising Machine and Equipment
Expropriation – Special Economic Advantage  
3D Version
PDF Version
Our Current issue:  2016 – VOLUME 60 – BOOK 2
In this issue . . .
CUSPAP, The Ontario Expropriations Act and Jurisdictional Exception
Valuing Solar Energy
KPIs: Valuable Insights or Just More Paperwork?
Limited Market, Special Purpose Valuation Revisited
CRA Diversification – Impaired Properties
3D Version
PDF Version
2016 – VOLUME 60 – BOOK 1
In this issue . . .
Injurious Affection and HVTL Corridors  
Using CUSPAP to Build a War-Torn Afghanistan Economy 
Best Practices – Examples from the Field
3D Version
PDF Version
2015 – VOLUME 59 – BOOK 4
In this issue . . .
Understanding Reserve Fund Studies  
The Use of Graphs in the Appraisal Process  
3D Version
PDF Version

2015 – VOLUME 59 – BOOK 3
In this issue . . .
Transforming the Real Estate Industry and Valuation Using Technology
What it Takes to become an Expert in Expropriation/Litigation
Managing Contamination of Real Property
3D Version
PDF Version

2015 – VOLUME 59 – BOOK 2
In this issue . . .
Lansdowne: A Success Story of Redevelopment in Ottawa 
CMHC Rental Housing Market Information
The Valuation of Distressed Properties
3D Version
PDF Version

2015 – VOLUME 59 – BOOK 1
In this issue . . .
Commercial Real Estate in 2015
Expert Witnesses – Update Moore v Getahun
Learning Growing Meeting Challenges Head On
Protecting Yourself Against Valuation Fraud
Reading the Whole Report
Tools of the Trade
Wine Industry Reinvention (Extended Version of Article)
Work Product Review
3D Version
PDF Version

Looking for older issues??
Canadian Property Valuation magazine 2014 issues
Canadian Property Valuation magazine 2013 issues
Earlier issues of Canadian Property Valuation are available in the members section at this link.  
EARN CPD CREDITS FOR AUTHORING
Note:  Through the AIC Continuing Professional Development (CPD) Program, the maximum number of CPD credits obtainable during a 2-year cycle for published authoring is 10.  The credits are based on the actual number of hours worked.  
INFORMATION FOR ADVERTISERS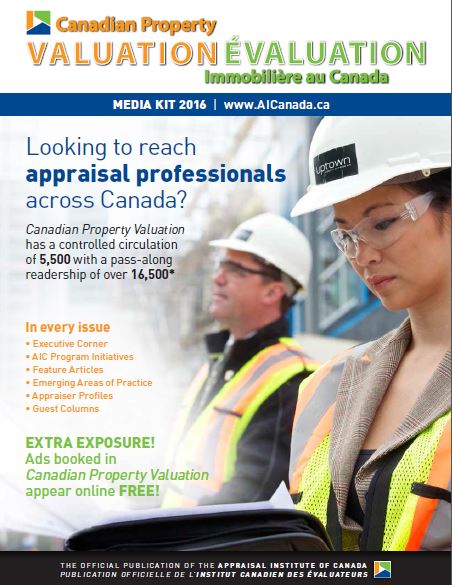 For rates and advertising guidelines see the CPV_MediaKit_2016.