Fellows
The title of Fellow is granted to Designated Members who have distinguished themselves by their exemplary contributions to the profession. This is demonstrated by a high level of excellence and achievement that has contributed to the advancement of the profession. The Fellowship Award is granted at the discretion of the National Board of Directors.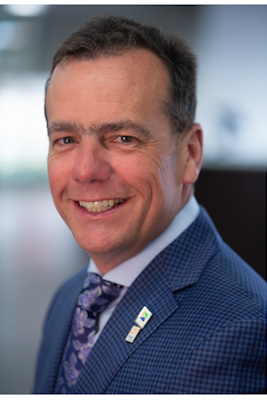 Thomas Fox, AACI, P.App, Fellow
Saskatchewan
Thomas Fox was elected as President of the Appraisal Institute of Canada in June 2019.
Thomas started in the family business working for his father Terry in 1996 and assumed leadership of the company when Terry semi-retired in 2007. In 2017, Thomas also became a Managing Partner of Verra Group Valuations. With more than 20 years in the valuation profession, Thomas continues to operate his firm, Fox Appraisals in Regina, Saskatchewan where he specializes in residential, multi-family, commercial and industrial properties.
Thomas earned his AACI in 2006 and has a wealth of volunteer experience in his profession and with the Institute. In June 2015 Thomas was elected as Vice President of Appraisal Institute of Canada (AIC). As well as serving on AIC's Board of Directors, Thomas has volunteered on the Work Product Reviewer Committee, has Co-Chaired AIC's Professional Practice Committee and has Chaired the Audit and Finance Committee. At the provincial level he has been Provincial President for two terms.
He also chaired Saskatchewan's Professional Development Committee as well as their Marketing Committee.
---
Past recipients
P. McLean, AACI, P.APP
D. Babineau, AACI, P.App
A.M. Barber, AACI, P.App
D.A. Beatty, AACI, P.App
G.S. Bennett, AACI, P.App
R. Bower, AACI, P.App
D. Brewer, AACI, P.App
L. Brosseau, AACI, P.App
D.J. Clark, AACI, P.App
J.A. Clark, AACI, P.App
P.J. Clark, AACI, P.App
R. Colbourne, AACI, P.App
M.Colgan, AACI, P.App
W. Crawford, AACI, P.App
D. Doucet, AACI, P.App
B. Duncan, AACI, P.App
G.D. Frampton, AACI, P.App
B.D. Girvan, AACI, P.App
K. Goodwin, AACI, P.App
W.G.R. Gosset, AACI, P.App
M.R. Grover, AACI, P.App
C. Hardy, AACI, P.App
C.G. Hayes, AACI, P.App
D.C. Highfield, AACI, P.App
D.F. Hildebrand, AACI, P.App
D.F. Horne, AACI, P.App
L.H. Howard, AACI, P.App
A.M. Ingram, AACI, P.App
I. Jorgensen, AACI, P.App
P.J. Kempton, Sr., AACI, P.App
J.M. Kirkland, AACI, P.App
D.W. Lambert, AACI, P.App
P. Lawrek, AACI, P.App
M.A. Martyn, AACI, P.App
R. Mason, AACI, P.App
G. Maurice, AACI, P.App
M.J. Mendela, AACI, P.App
P. MacLellan, AACI, P.App
D.H. Moore, AACI, P.App
B.F. McMullan, AACI, P.App
L.W. North, AACI, P.App
P. Olscamp, AACI, P.App
D. Osland, AACI, P.App
R. Robson, AACI, P.App
D.J. Rundell, AACI, P.App
G.A. Shufelt, AACI, P.App
D. Shum, AACI, P.App
L. Smith, AACI, P.App
R.C. Soderquist, AACI, P.App
K.F. Stroud, AACI, P.App
R.Tipple, AACI, P.App
G.J. Tomiuk, AACI, P.App
G. Uba, AACI, P.App
R.E. Wade, AACI, P.App
B. Wagar, AACI, P.App
G.A. Ward, AACI , P.App
A.R. Warga, AACI, P.App
G. Wilkinson, AACI, P.App
D. Wilson, AACI, P.App
S. Wilson, AACI, P.App
S. Young, AACI, P.App