The great office space realignment
Canadian Property Valuation Magazine
Search the Library Online
---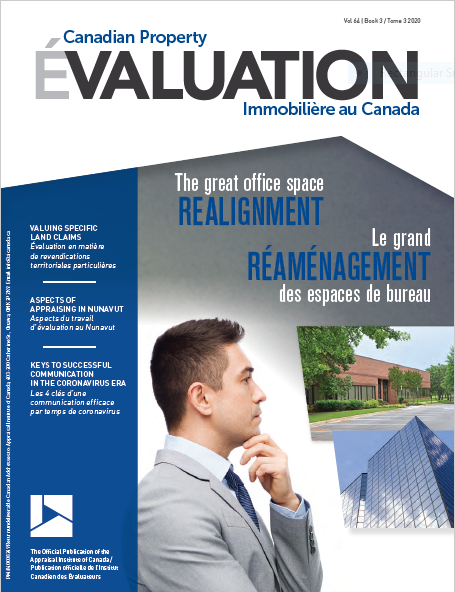 2020 – Volume 64 – Book 3
The great office space realignment
---
The great office space realignment
Office space desirability is changing during the pandemic and certain office types are feeling the effects
By Ryan Swehla, CCIM, CPM, co-founder and principal of Graceada Partners (http://graceadapartners.com). Ryan co-leads the firm's investment activity, provides strategic direction and oversees capital sourcing for the company's 2,000,000 SF portfolio of Northern California assets.
It goes without saying that the Coronavirus pandemic will have a lasting impact on the future of office space as we know it. While it is safe to assume that a certain percentage of office users will change their building preferences no matter what the circumstances, how the pandemic will affect overall office demand will likely differ more by office type than geographic location, surprisingly enough.
History tells us that trends come and go relative to the desirability of where people live and work. For example, 1947 was a year remembered for the construction of cookie-cutter houses in North American suburbs. More recently, we have seen the resurgence of urban housing development and a renewed interest in urban dwelling. Similarly, in1889, when the first high-rise office building was built in New York City, it marked the beginning of the era of high-rise office buildings that have since defined metropolitan skylines. Now, in 2020, with the emergence of a worldwide pandemic, there appears to be a major shift from the era of office skyrise dominance.
Here, we will take a look at three office types: downtown high-rises, suburban low-rises and medical offices, to consider how their value and desirability are changing as a result of the pandemic.
Downtown high-rises
Of the three office types, this is the category that will see the greatest decline in value and tenant demand. With the initial successes of some work-from-home models — perhaps to the surprise of some employers — downgrading to a less expensive area and/or office type will save on costs that were being funneled into now-optional office space for some employers.


High-rises have always offered their fair share of complications, even before the Coronavirus. They are notorious for not being easy to access; parking lots or parking garages can be a nightmare to navigate; and public transportation offers its own challenges, particularly now with its reduced appeal as a means of commuting amid the pandemic and quite possibly afterward. Also, social distancing in high-rise offices poses more of a challenge given the high density of people within limited square footage. This constraint leads to growing problems exacerbated by COVID-19. High-rises have many functional restraints beyond tight hallways, cramped space in general common areas, and tight layouts for desks. Air systems can keep old air circulating around the office, allowing for disease to spread a lot easier if the filtration system is out of date or faulty. Elevators are an intensified microcosm of this same issue.
Suburban low-rises
Certain complexities of high-rise buildings may make some tenants reconsider whether or not high-rises are the best option for them. Those looking for more space for employees may turn to secondary markets, which generally consist of low-rises in smaller urban areas or suburban communities, and there is an abundance of options for those seeking low-rises in less densely populated areas in smaller cities, the fringes of big cities, and the suburbs. As a result, we may see increased demand for suburban low-rises in the short-term (which may result in upward price movement for a period of time). Sunsequently it will likely take time for high-rise demand to increase again, particularly in the short-term, as businesses look for ways to keep employees safe and consider more affordable, expansive office space in the suburbs.
While high-rises may still attract bigger companies that value in-person work environments and the prestige of being located on prime strips of real estate, businesses renting in low-rises in smaller urban cities or suburbs may appreciate the flexibility of leasing a space away from the density of a major urban market. Typically, there is more land in these areas, allowing for COVID-conscious blueprints for new construction or renovations. Moreover, if and when workers move from primary markets to smaller cities or suburbs, businesses may want to meet talent where they live. If we see an extended shift in demand from large city, high-rise locations, we will likely see some rent readjustment in both locations.
Medical offices
A third office type to consider is medical offices. These range from dental to therapeutic, clinical to surgeon specialists. The medical field is only anticipated to grow, and the pandemic has accelerated this trend. With the increase in demand for medical offices, there will undoubtedly be an increased need to develop more medical office locations. To accommodate the demand, new offices are being built and will continue to be built into the foreseeable future. The need for these commercial spaces is expected to surge as Canada's population grows older, according to The Globe and Mail. During the pandemic, low-rise, and specifically single-storey medical offices have the ability to let people wait outside if there are too many people inside the office or waiting room. This is a luxury not afforded to medical offices located in high-rises and/or in crowded cities.

With these three office types in mind, it is important to look at another side of real estate: homeowners and the housing market. Noticing trends in residential real estate gives us a more complete picture. Take Toronto, for example; in a handful of municipalities outside of Canada's largest city, housing sales were up more than 40% compared to last year (this is as of the beginning of July 2020), according to an article on Global News. This shows a trend of more people moving to suburban or rural areas, in part because their jobs allow for greater work-from-home flexibility.
And a recent CNBC article points to a short-term trend of more office development in the suburbs. With people moving to suburbs or smaller secondary markets like Windsor – where the average home price has increased by 19% since June 2019 – the desire to shift away from high-rises to suburban offices could continue, also driving up construction demand for more low-rise office space closer to where these people now live.

Some of these short-term office and real estate trends could have long-term ramifications. According to Healthline.com, it takes an average of 66 days to establish a good habit as a routine. With social distancing and mask wearing orders having been in place in some parts of the country for several months now, this might suggest that the COVID mentality will outlive the pandemic. However, those who have stuck with a diet or workout regimen for more than two months only to backslide thereafter know that habits can die quickly. There is always a chance that people's daily outlook living and working through the pandemic will fade away once officials ease restrictions and we return to some measure of normalcy. For some individuals and businesses, this will be the case. However, enough people have already subconsciously altered how they think and act because of the pandemic (such as moving away from cities on relatively short notice) that it may take longer to return to a pre-COVID-19 mentality – if we ever actually return to one.
The decisions of those businesses and people who change where they work and live may very well impact the desirability and value of office buildings across the country for years to come.