Awards
Fellows
The title of Fellow is granted to Designated Members who have distinguished themselves by their exemplary contributions to the profession. This is demonstrated by a high level of excellence and achievement that has contributed to the advancement of the profession. The Fellowship Award is granted at the discretion of the National Board of Directors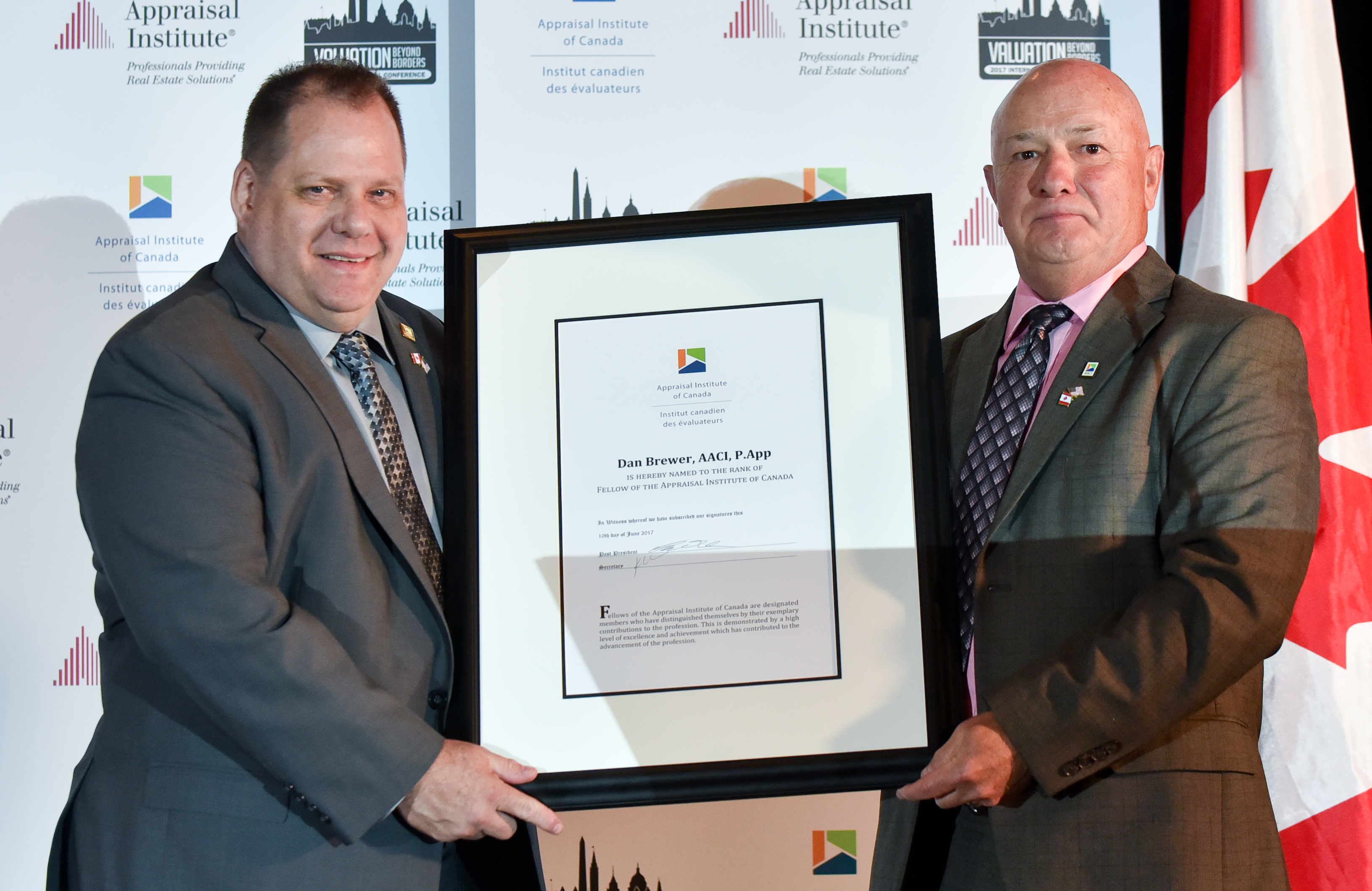 Dan Brewer, AACI, P.App, Fellow
Ontario
With nearly 40 years of property valuation experience in the private sector, Dan currently is a senior appraiser and consultant for Appraisers Canada, with offices in Richmond Hill and Barrie. Dan joined the Appraisal Institute of Canada in 1983, earned his C-R-A designation in 1987, and received his AACI, P.App in 2006.
He is a licensed real estate broker and a licensed mortgage broker, and he holds the Real Estate Institute of Canada's C-R-P designation for Certified Reserve Fund Planners. During the past quarter century, Dan has served on several committees at both the provincial and national level, and he speaks at various seminars and conferences in Canada, the United States and Europe.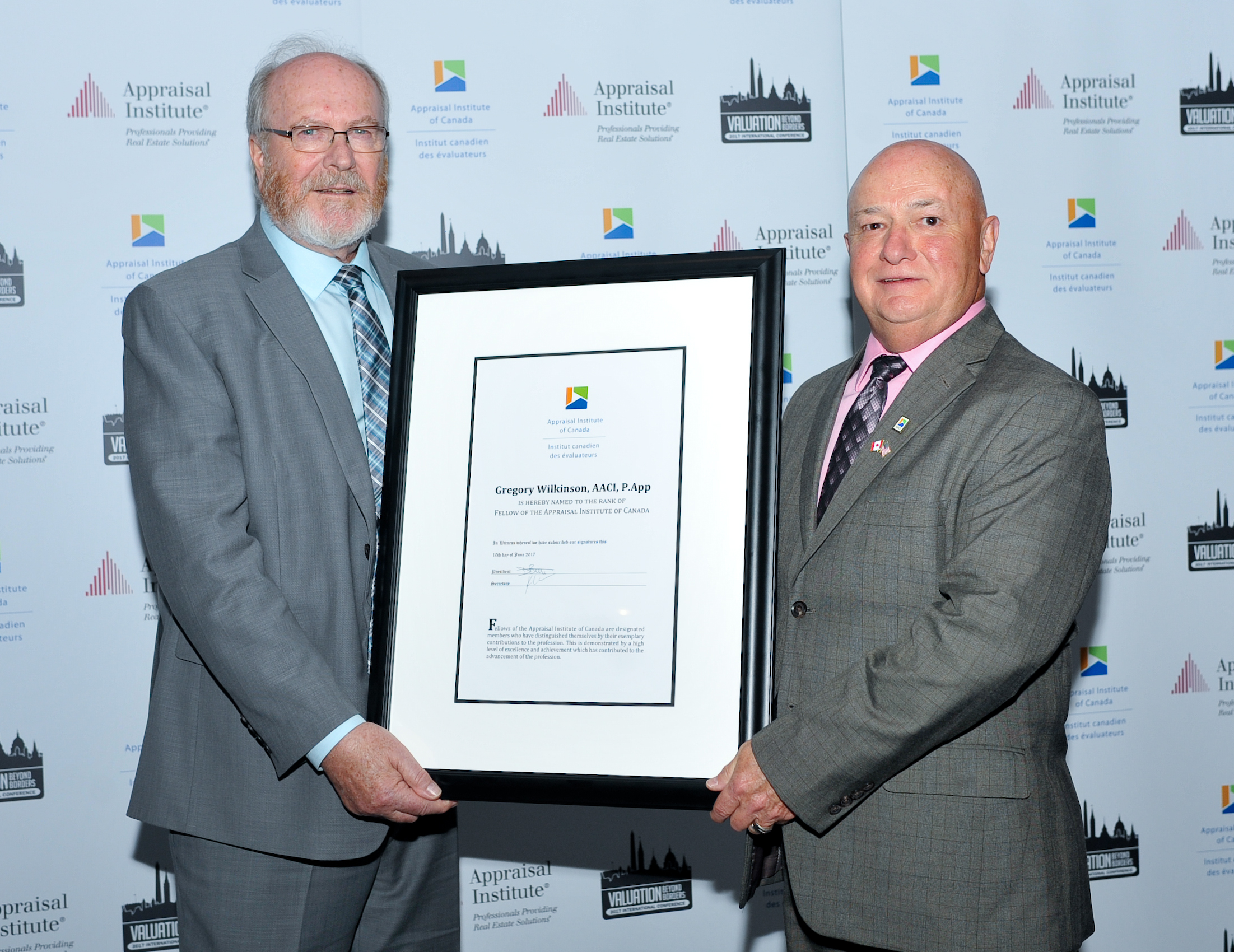 Greg Wilkinson, AACI, P.App, Fellow
Ontario
Greg started his appraisal career with the CMHC, achieved his CRA designation in 1978 and his AACI designation in 1982. In 1986, Greg and Bill Hoffer founded Hoffer Wilkinson & Associates, which would go on to become one of the largest firms in the Manitoba until 2015, when it was purchased by Altus Group Ltd.
Year after year, Greg continues to generously give his time at a local and provincial level. For 11 years, Greg served in various capacities, including the Adjudicating Committee and Appeals Committee, and, most recently, he has served as a Special Investigator. He has also mentored three AACIs and two CRAs.
Greg was also a key driver of SABRE, an acronym for Solds for Appraisers and Brokers of Real Estate, which is an electronic database for all real estate sales for the entire province of Manitoba.
Someone once asked Greg why he spends so much time on AIC committees. His response was that he thought it was important to contribute, and that we wouldn't have much of an organization if we all thought that someone else should do the work.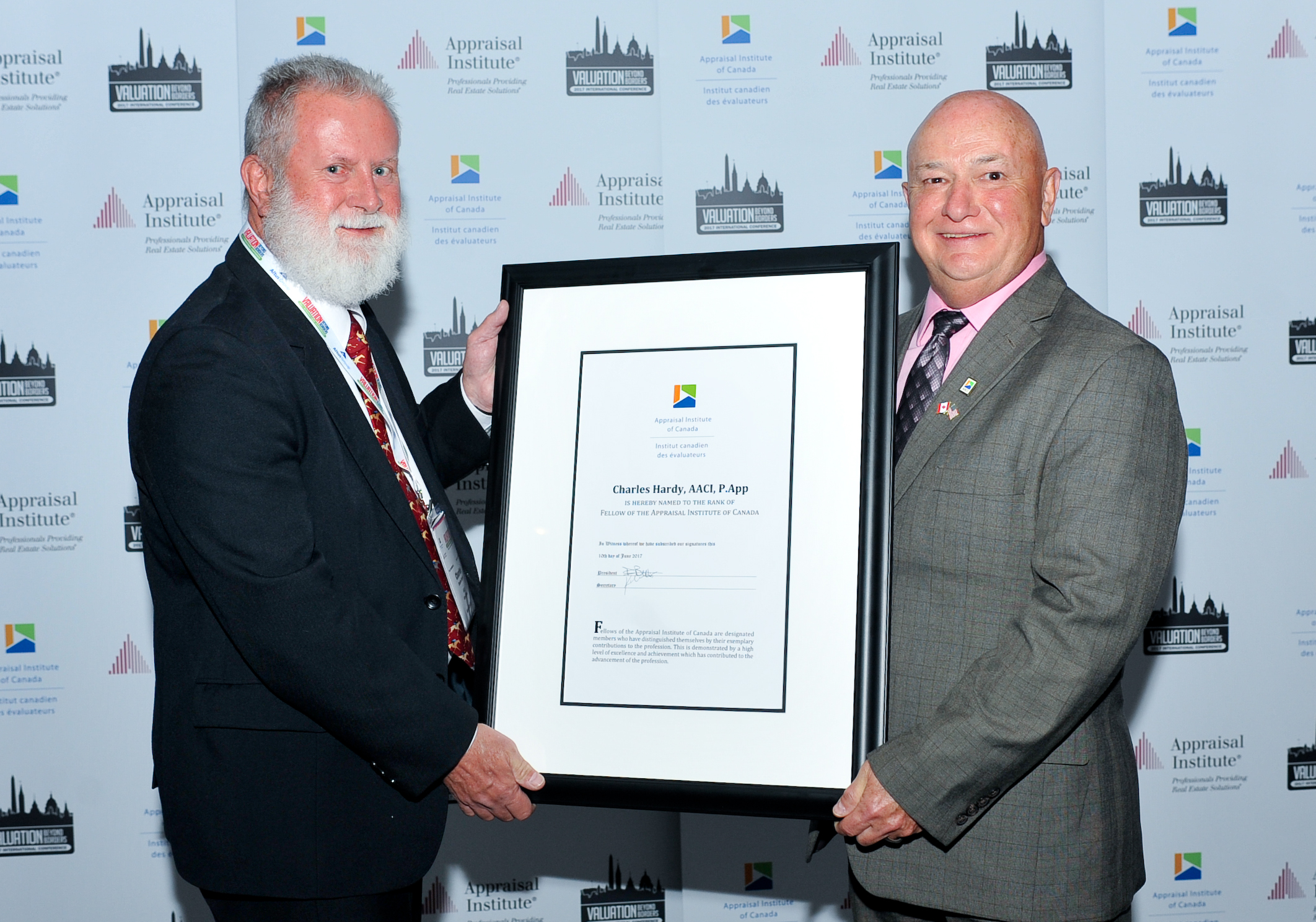 Charles Hardy, AACI, P.App, Fellow
Nova Scotia
Charles started his valuation career in the UK, where he studied Estate Management (Valuation) at the College of Estate Management in London, England. Charles then moved to Liverpool, where he performed commercial valuations and related rating work for a large company of professional valuers, and, in 1973, he completed a specialization in planning and municipal law.
Shortly after, Charles and his wife moved to Canada, where Charles began working for the BC Assessment Authority and gained his RIBC (Valuation) in 1975 and his AACI in 1976.
Charles spent a short time working at a private practice in Edmonton before moving to Dartmouth in 1978. There, he worked as a manager before taking ownership of Pat King Appraisals, which would go on to become Hardy Appraisals, and eventually Altus Group Limited.
Since becoming an AACI in 1976, Charles has been actively involved within the Institute. From chairing a National Committee tasked with improving Ethics and Standards, to chairing the Nova Scotia Chapter, to becoming a founding member of AIC's National Board of Appeal, he has undoubtedly had a strong impact on the AIC. Charles has also sat on the National Adjudicating Committee, the National Investigating Committee, and has represented the Appraisal Institute in the United States and the Peoples Republic of China.
Over his 41 years as a member, Charles has made countless significant contributions to the growth and enhancement of the appraisal profession, both within Canada and internationally. He has also inspired his son, James Hardy, to follow in his footsteps as a respected appraisal professional and active volunteer within AIC.