Awards
Honorary AACI
This membership category instituted in 2007 is awarded to individuals who are ethically above reproach; publicly recognized as leaders in business, law, academia, and other professions; and, contribute to the Institute's advancement of the profile, respect, body of knowledge, and advocacy of the valuation profession. The Honorary AACI is granted at the discretion of the National Board of Directors.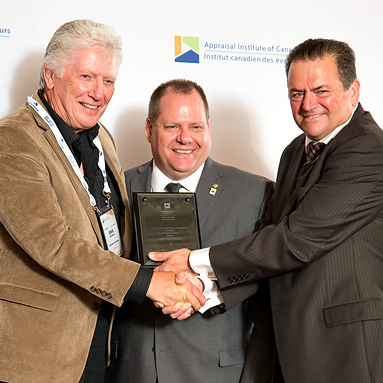 Craig Kelman, AACI (Hon.)
Manitoba
Craig Kelman's association with AIC began more than 30 years ago when AIC's head office was situated here in Winnipeg. Throughout all those years and after AIC's move to Ottawa he has continued as the Editor and Publisher of AIC's magazine -- Canadian Property Valuation.
Craig has been the backbone and silent partner of every single CPV publication since its inception. In fact, AIC's magazine was one of his first publications at Kelman & Associates, and over the past 30 years, he has been responsible for publishing and writing several articles within each of the more than 120 issues.
What is so remarkable about Craig, is that although his publishing company has now grown to manage more than 75 publications and has expanded throughout North America, he remains intimately involved in the CPV – from the planning phase, to interviewing, to writing, designing and distribution. In fact, our magazine is the only publication that he is still involved in at an operational level!
It seems very fitting that Craig receives this award. Not only has he been extremely loyal to AIC, he has contributed to our objective of advancing the profession in a very significant and tangible way. He continues to be the storyteller that helps to connect our members from coast-to-coast…one issue at a time.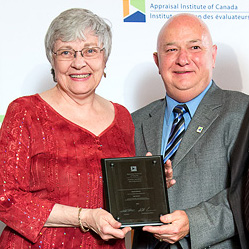 Davida Mackay, AACI (Hon.)
Nova Scotia
For almost 30 years Davida Mackay has served as the Executive Director of AIC-Nova Scotia and the Nova Scotia Real Estate Appraisers Association (NSREAA). While Davida's role is a paid position, her contribution to the NSREAA membership and the national AIC organization has gone far beyond anything that her employment could have anticipated.
In that capacity she has nurtured and guided countless AIC members from their initial inquiries about membership, through their Candidate journey and on to designation. During her tenure with AIC, Davida has always been very supportive in generously sharing advice and tips from her vault of corporation information with both national staff and AIC provincial staff across Canada. She has supported a long line of Executive and Board members of NSREAA. She has and continues to be the steward of the corporate memory of the provincial association. Davida was instrumental in providing guidance insight and support for local leadership to implement legislation and licensing in Nova Scotia to protect the interests of the citizens and advance the cause of real estate appraisers.
Davida is affectionately recognized as the "Elder Statesman" by her provincial Executive Director colleagues. Her advice, counsel and mentoring have contributed to the success of newly appointed executive directors and she has built and fosters strong relationships with both her Atlantic and National colleagues.
Davida has gone above and beyond by applying her energy and expertise to the interests of the AIC and its membership. Recognition of her support and promotion of the appraisal profession and the advancement of the AIC is duly warranted.