2021 – Volume 65 – Book 4
Canadian Property Valuation Magazine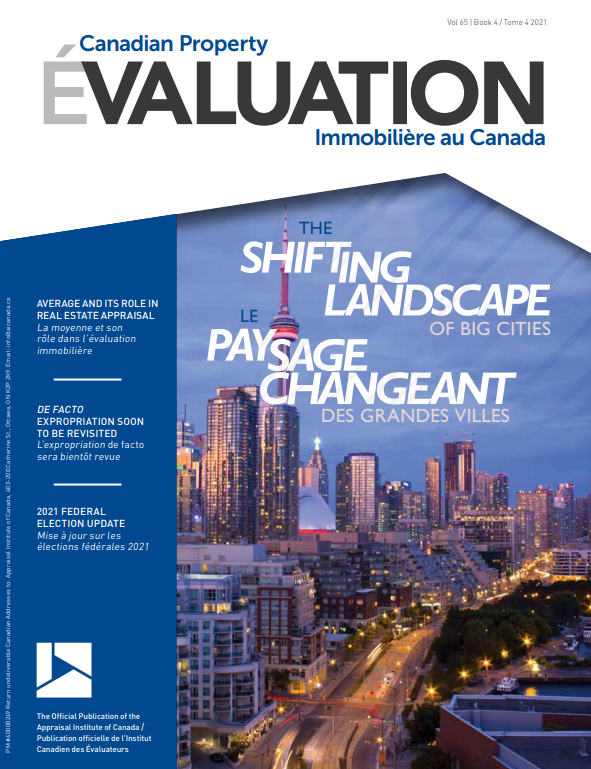 2021 – Volume 65 – Book 4
The shifting landscape of big cities
Average and its role in real estate appraisal
The Future is Bright: Nicholas Jang
The benefits of volunteering at AIC: A secret too well kept
Issue Articles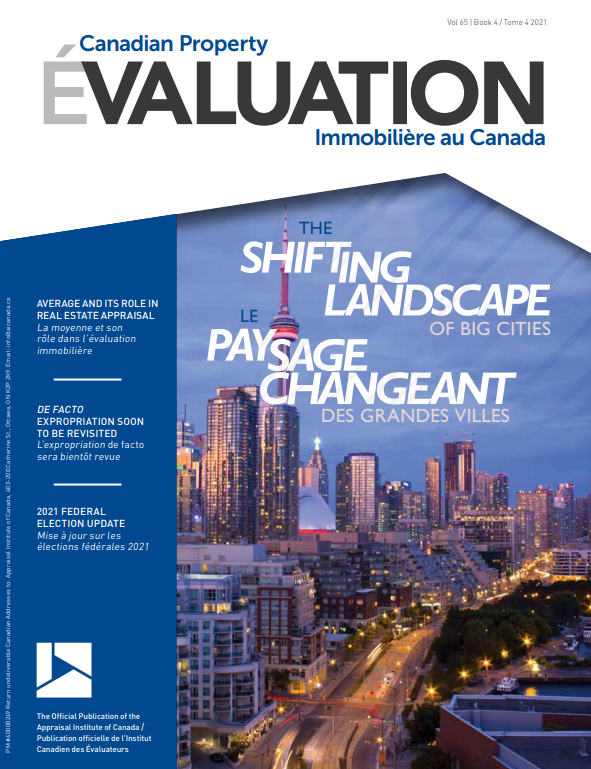 2021 – Volume 65 – Book 4
De facto expropriation soon to be revisited
LEGAL MATTERS: BY JOHN SHEVCHUK (Barrister & Solicitor, C.Arb, AACI (Hon), RI) Under Canadian law, there is a presumption that, when the state takes private property, compensation will be paid. In opposition to this general principle, there is the power…...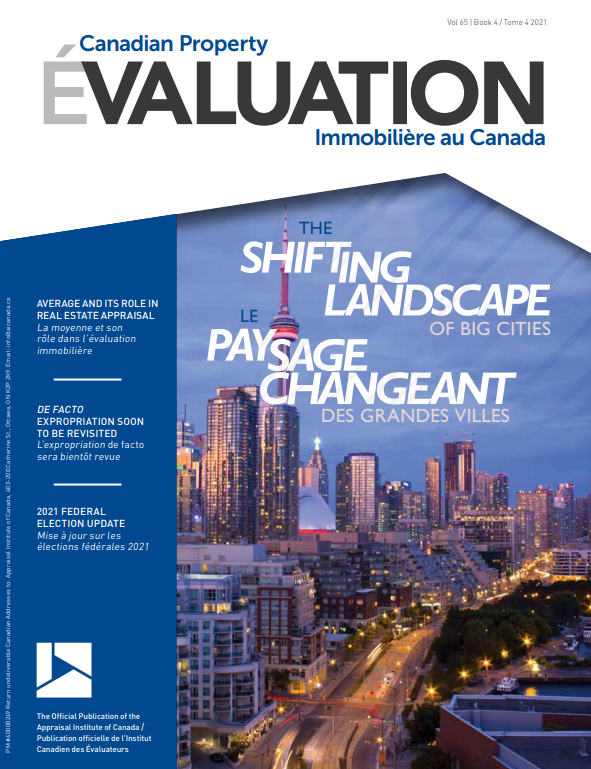 2021 – Volume 65 – Book 4
The benefits of volunteering at AIC: a secret too well kept
EXECUTIVE CORNER : André Pouliot It is worth more than 65,000 condos in Vancouver, 118,000 homes in Halifax, and more than all of the investment-grade real estate that sells in Canada in a typical year. If it was an industry,…...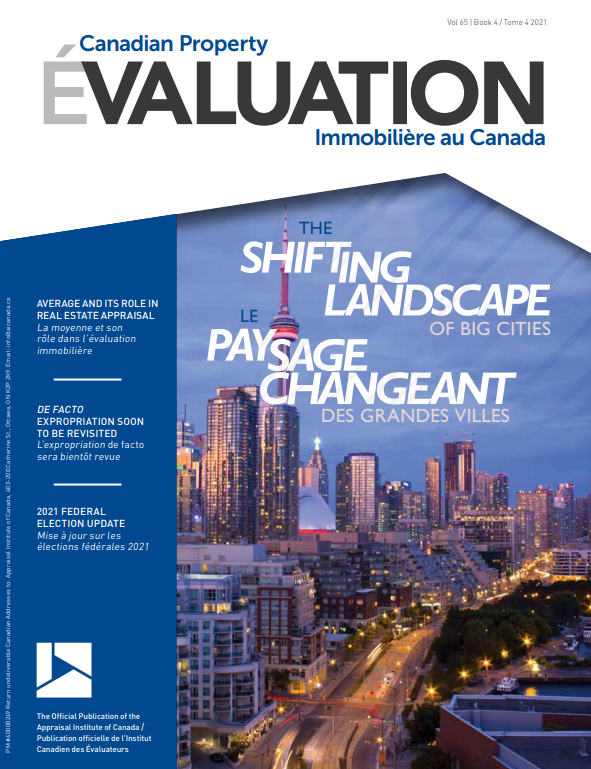 2021 – Volume 65 – Book 4
The shifting landscape of big cities
By Ryan Swehla, co-CEO of Graceada Partners (http://GraceadaPartners.com) a real estate investment firm based in Modesto, California. Swehla leads the firm's investment activity, providing strategic direction and overseeing capital sourcing for their assets. Founded in 2008 during the Great Recession,…...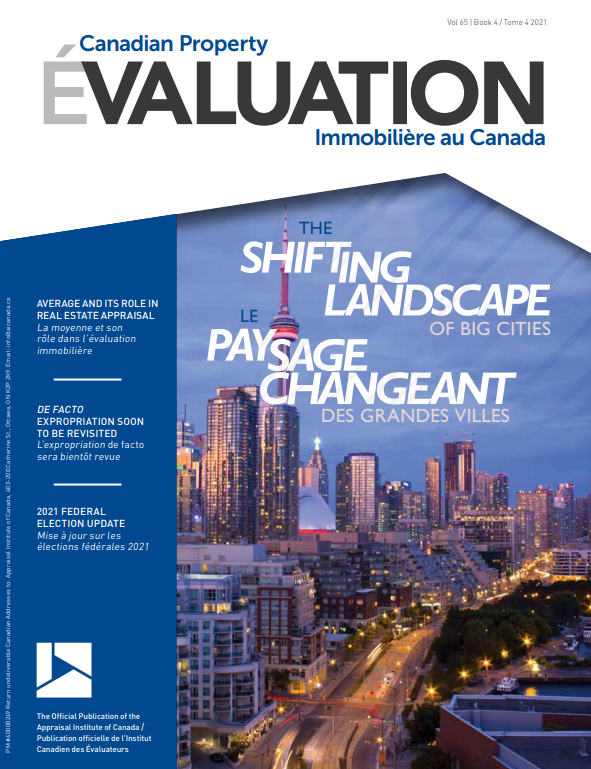 2021 – Volume 65 – Book 4
The Future is Bright
Nicholas Jang, 3rd Year Candidate Member: Motivated by the profession's critical thinking and decision-making opportunities What is your educational background and work experience? NJ: I hold a diploma of Urban Land Economics and a Bachelor of Business in Real Estate…...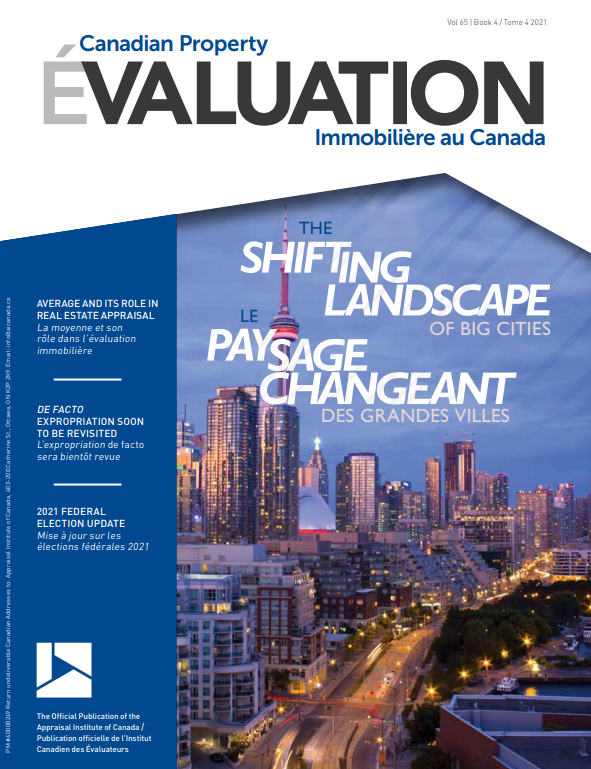 2021 – Volume 65 – Book 4
Average and its role in real estate appraisal
By George Canning, AACI, P.App, Canning Consultants Inc., London, ON There is no doubt that the average of any series of numbers is important. In his article entitled The Strange Power of the Idea of Average, published in the Financial…...