LandPRO 2019 Conference | Tuesday March 5, 2019
The GTA and Ontario's development and real property industries continue to grow and evolve, creating new challenges, risks and opportunities.
Join the region's top Land Professionals for a day of learning, insights and strategies that will help you outperform in 2019.
You'll hear how the fundamentals of land and real property are evolving. Fifteen thought leaders and industry experts—authorities in condo law, municipal planning, transit systems, condo development, project costing, finance, planning, technology—will discuss the factors and trends that will shape 2019.
Our commitment to you:   Exceptional speakers tackling topics of significance delivering a balance of technical expertise and strategic insights.
 
Your takeaway will be best practices and strategies to succeed in 2019 and support an enduring business.
CLICK HERE FOR MORE INFORMATION
This will earn 6 CPD Credits.
The Valuation of Environmentally Contaminated Real Estate | February 7-8, 2019
Class Location:
Embassy Hotel and Suites Ottawa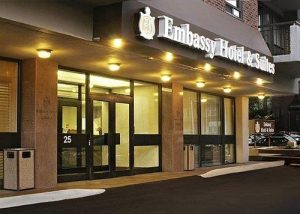 25 Cartier Street
Ottawa, ON K2P 1J2
Phone: (613) 237-2111
Fax: (613) 563-1353
Participant Capacity: 30
Course Description:
This course sets out the big picture with techniques, exercises and case studies used in environmental damage analysis.
Participants should have basic knowledge of the three approaches to value. The goal of this course is to provide theoretical
knowledge and practical skill that will allow an appraiser, on a basic level, to develop an opinion of the impaired value of an
environmentally damaged property.
Course Instructor:
Gordon E. MacNair, AACI, P.App, SR/WA, is Director, Real Estate Partnerships & Development Office for the City of Ottawa and is a direct report to the City Manager. Gord is responsible for leading key development initiatives set out in Council's Strategic Plan, enhancing the value of the City's real estate assets,and setting long-range strategic real estate asset rationalization and management plans. His team oversees all real estate matters for the City of Ottawa . Gordon is a facilitator for a number of organizations including the AIC, IRWA, BOMI/BOMA and has facilitated various types of seminars across Canada and the
U.S.on real estate matters ranging from valuation, commercial leasing, expropriation, asset management and real estate investment finance. He has also published a number of valuation articles in both the Canadian Property Valuation and the Right of Way magazines. Gordon served as International President for
the International Right of Way Association for 2004-2005.
This course earns 12 CPD Credits.
UBC Sauder Provided Courses
The Real Estate Division offers a series of short online Professional Development courses aimed at satisfying real estate practitioners' continuing education needs. All courses are offered through distance education in a self-study format (with an online quiz) or a live webinar.
Click the link below to find courses earning CPD Credits: