KEITH GOODWIN AWARD
The KEITH GOODWIN AWARD is presented annually by AIC-BC to recognize a designated member for outstanding service, leadership, achievement, education, or mentoring. The award is named after our past provincial & national president, Keith Goodwin, who personifies these attributes.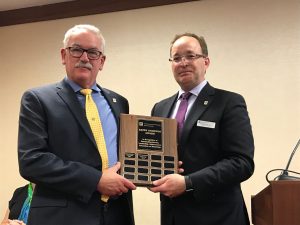 The 2018 Keith Goodwin Award was presented to Kelvin Coley-Donohue, AACI, P.App by AIC-BC President  Graham Held, AACI, P.App at the AIC-BC Annual General Meeting in Vancouver, BC on October 11, 2018.
Kelvin has been an AIC member since December 1997, and became a designated AACI, P.App in November 2003.
Kelvin has held many roles with the AIC-BC, both at the Regional and Provincial level over his career as an Appraiser. Kelvin has participated in Professional Competency Interview Panel for the past 10 years, held various roles on the Chapter Executive and as a Provincial Board member where he was the Chair of the Marketing Charter. In addition to these duties, Kelvin contributed significant time as the Co-chair of the Vancouver Chapter led initiative in the planning and implementation of the AIC National convention that was held in Vancouver.
CONGRATULATIONS KELVIN!
Past Recipients:

| | |
| --- | --- |
| 2017 – Jack Cockwell, AACI, P.App | 2010 – Keith Pritchard, AACI, P.App |
| 2016 – Dan Wilson, AACI, P.App | 2009 – David Osland, AACI, P.App |
| 2015 – Linda Hastings, AACI, P.App | 2008 – Dennis Marks, AACI, P.App |
| 2014 – Craig Barnsley, AACI, P.App | 2007 – John Dean, AACI, P.App |
| 2013 – John Peebles, AACI, P.App | 2006 – Harvey Erickson, AACI, P.App |
| 2012 – Karen Waldie, AACI, P.App | 2005 – Michael Grover, AACI, P.App, Fellow |
| 2011 – George Ward, AACI, P.App |   |