KEITH GOODWIN AWARD
The Keith Goodwin Award is presented annually by AIC-BC to recognize a designated member for outstanding service, leadership, achievement, education, or mentoring. The award is named after our past provincial & national president, Keith Goodwin, who personifies these attributes.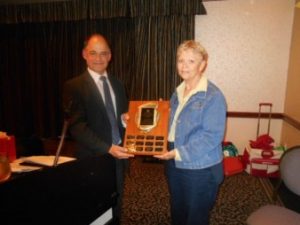 The 2015 Keith Goodwin Award was presented to Linda Hastings, AACI, P.App by AIC-BC President Douglas Janzen, AACI, P.App at the AIC-BC Annual General Meeting in Victoria, BC on October 2, 2015.
Linda was born in Frankfurt, Germany and made the move to Canada (Cranbrook) in the late 1970's. She attended both UBC and BCIT and is currently enrolled at Thompson Rivers University working on a Bachelor of Commerce Degree. In addition to her AIC membership, she is also a member of the REIBC.
Linda was employed with the BC Assessment Authority from 1974—1982 and worked at ABJ Real Estate in Cranbrook from 1986—1993. Linda opened her own business in 1993 specializing in the appraisal of East Kootenay land and commercial property.
CONGRATULATIONS LINDA!
Past Recipients:

| | |
| --- | --- |
| 2017 – Jack Cockwell, AACI, P.App | 2010 – Keith Pritchard, AACI, P.App |
| 2016 – Dan Wilson, AACI, P.App | 2009 – David Osland, AACI, P.App |
| 2015 – Linda Hastings, AACI, P.App | 2008 – Dennis Marks, AACI, P.App |
| 2014 – Craig Barnsley, AACI, P.App | 2007 – John Dean, AACI, P.App |
| 2013 – John Peebles, AACI, P.App | 2006 – Harvey Erickson, AACI, P.App |
| 2012 – Karen Waldie, AACI, P.App | 2005 – Michael Grover, AACI, P.App, Fellow |
| 2011 – George Ward, AACI, P.App |   |