Awards
KEITH GOODWIN AWARD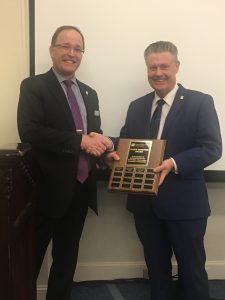 The KEITH GOODWIN AWARD is presented annually by AIC-BC to recognize a designated member for outstanding service, leadership, achievement, education, or mentoring. The award is named after AIC-BC's past Provincial
and National president, Keith Goodwin, who personifies these attributes.
The 2019 Keith Goodwin Award was presented to Dan Jones, AACI, P.App by AIC-BC President, Graham Held, AACI, P.App at the AIC-BC Annual General Meeting in Vancouver, BC on October 17th, 2019.
Dan is President, CEO, and Managing Director of Campbell & Pound Real Estate Appraisers. He has been an Appraisal Institute of Canada (AIC) member since December 1973, and became a designated CRA, P.App in June 1983 and an AACI, P.App in December 1986. Dan has held many volunteer roles with the AIC-BC, including AIC-BC President in 2006 – 2007. Dan has been an active volunteer at all levels within the AIC. He has been a member of and contributed to regional, Provincial, and National committees, and has also been a long-standing volunteer of the AIC-BC Board of Examiners (Professional Competency Interview Panel). He most recently served as the British Columbia National Board Liaison on the AIC Board of Directors for three consecutive two-year terms and was part of several National committees and initiatives. Congratulations, Dan!
Past Recipients:
| | |
| --- | --- |
| 2018 – Kelvin Coley-Donohue, AACI, P.App | 2011 – George Ward, AACI, P.App |
| 2017 – Jack Cockwell, AACI, P.App | 2010 – Keith Pritchard, AACI, P.App |
| 2016 – Dan Wilson, AACI, P.App | 2009 – David Osland, AACI, P.App |
| 2015 – Linda Hastings, AACI, P.App | 2008 – Dennis Marks, AACI, P.App |
| 2014 – Craig Barnsley, AACI, P.App | 2007 – John Dean, AACI, P.App |
| 2013 – John Peebles, AACI, P.App | 2006 – Harvey Erickson, AACI, P.App |
| 2012 – Karen Waldie, AACI, P.App | 2005 – Michael Grover, AACI, P.App, Fellow |