Announcements
GRAHAM HELD ELECTED
President of the
British Columbia Association of the Appraisal Institute of Canada
Vancouver, British Columbia – At the Directors Meeting, October 12th, 2017, Graham Held, AACI, P.App of Kamloops, BC was elected President of the British Columbia Association of the Appraisal Institute of Canada for a one year term.  The Association congratulates Graham Held, AACI, P.App, of the Kamloops Chapter of the BC Association of the Appraisal Institute of Canada on his accomplishment.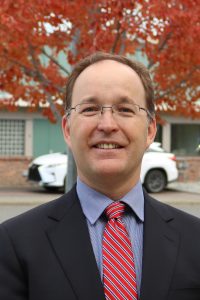 Graham began his career in BC Assessment's Nanaimo office in May 1993.  In his 24-year tenure, Graham has gained experience from several BC Assessment offices including Pitt Meadows and Burnaby.  In June 2004, Graham became Deputy Assessor for the Surrey office and transferred to the Kamloops office as Deputy Assessor in 2007.  In this role, Graham oversees the administration of BC Assessment's core product, the assessment roll, which is an annual snapshot of properties and property values across British Columbia.  BC Assessment delivers the roll electronically to every taxing authority in British Columbia, allowing for fair and equitable taxation.  BC Assessment also communicates assessed values to property owners by mailing nearly two million assessment notices each January.
Graham Held is an Accredited member of the Appraisal Institute of Canada and was awarded his AACI, P.App designation in 2003.  Graham holds a Bachelor of Commerce, specializing in Urban Land Economics that he obtained from the University of British Columbia in 1993.
Graham has been an avid volunteer and mentor throughout his career.  He was elected to the AIC-BC board in 2007 and previously held roles as Kamloops Chapter Representative and 1st Vice President.  Graham also dedicates his spare time to working with the Real Estate Division of the UBC Sauder School of Business as tutor for the BUSI 460 – Critical Analysis and Forecasting in Real Estate course.
The BC Association of the Appraisal Institute of Canada is the Provincial Association of professional real estate appraisers. With approximately 1,200 members, the Provincial Association is affiliated with the National Appraisal Institute of Canada and comprises eight chapters throughout BC and the Yukon. 
Members are awarded designations after completing extensive education, applied experience, guided case studies, and final examinations.  Members are governed by the Canadian Uniformed Standards of Professional Appraisal Practice. A strict code of Ethics ensures that all members maintain high standards in appraisal assignments.
Professional designations conferred by AIC are: AACI, P.App and CRA.
AACI, P.App – Accredited Appraiser Canadian Institute, Professional Appraiser
CRA – Canadian Residential Appraiser